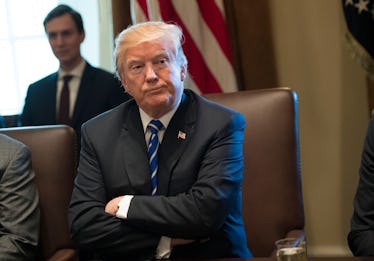 Is Donald Trump Involved In Miss Universe 2017? The President Used To Own The Show
Pool/Getty Images News/Getty Images
The 2017 Miss Universe pageant is coming up on Sunday, Nov. 26, on FOX. Steve Harvey is returning as host and hopefully won't mess everything up by naming the wrong winner again. But, you know who messes up more things than Steve Harvey and also has a past with Miss Universe? Donald Trump! You probably already knew the president used to own the Miss Universe pageant, which means he also owned Miss USA and Miss Teen USA. A common misconception is that he owned Miss America, but that's an entirely different franchise. So is Donald Trump involved in Miss Universe 2017? Here's what we know.
The Miss Universe Organization was sold to WME/IMG in 2015 by Trump. Trump originally bought the Miss Universe Organization back in 1996 from ITT Corp, according to Forbes. He co-owned the organization with NBC starting in 2002 and moved its headquarters from Las Vegas to New York. He continued this co-ownership with NBC until 2015, when NBC cut all business ties with Trump following the offensive comments he made about Mexican culture when he announced his presidential campaign. According to Forbes, when NBC cut ties, Trump bought its entire share and then sold the Miss Universe Organization to WME/IMG. So, as of 2015, Trump does not own the Miss Universe pageant or any of its affiliate pageants, and he does not currently have any ties to the organization. So, unless he's planning on making some random and out of place guest appearance (that is, if the pageant would even invite him to partake, which is not likely), Donald Trump is not involved with Miss Universe 2017.
Trump made a sh*t ton of money off of the Miss Universe Organization when he did own it, however.
According to CNN Money, Trump's partnership with NBC on the Miss Universe Organization and Miss USA pageants was worth between $5 million and $25 million, and he earned a total $1.4 million through this venture in 2014. But Trump's announcement of his presidential campaign threw a wrench into that partnership when he insulted Mexican culture. When announcing his presidential campaign, Trump now infamously said, "When Mexico sends its people, they're not sending their best. They're bringing drugs. They're bringing crime. They're rapists. And some, I assume, are good people." NBC refused to broadcast the Miss USA pageant as a result of these words, which Trump and his team said were a breach of contract. Univision, a network that used to air the Miss USA pageant annually, also refused to broadcast the pageant. It was broadcast on the Reelz cable channel and suffered a massive drop in ratings (less than one million).
Alan Garten, Trump's former general counsel, said to CNN in July 2015 that Trump's deal with NBC had an "arbitration clause," aka an agreement in a contract that states any dispute between the parties involved will be settled outside of court, hence the reason Trump didn't sue NBC for not broadcasting the pageant. Garten told CNN, "We will obviously be following the contract. I think that sort of represents the difference between how we, as an organization, act and how NBC has acted. We follow the contract; they have not."
Before being inaugurated as president on Jan. 20, 2017, or as I like to call it, Women's March Eve, Trump had to relinquish all of the power and responsibility of his companies over to someone else (he chose his adult children), as the law states the president is not allowed to profit from any sort of business or foreign power while in office. He obviously makes his own salary as president, but that is the only income he's allowed while in office. Trump did not make it clear whether or not he had taken steps to distance himself from his businesses until he said he did three weeks into his presidency.