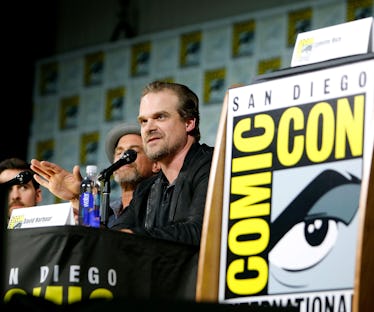 Is David Harbour Single? 'Stranger Things' Fans Are Wondering
Randy Shropshire/Getty Images Entertainment/Getty Images
He's the man who's bringing dadbod back. The boys of Stranger Things don't know how to act. But David Harbour, who plays Chief Hopper on the Netflix hit series, has become an unlikely sex symbol in 2017, with fans even shipping him and Winona Ryder's Joyce Byers. (The proper portmanteau is "Jopper," by the way.) But with so many moms at home swooning over the face of law and order in Hawkins, Indiana, fans have to ask: Is David Harbour single? Does he have a date to the Golden Globes next month?
Well actually.... no, it doesn't look he does. He certainly doesn't seem to have a significant other, according to his Instagram anyway. The only faces that join him on the regular are his co-stars from the Netflix show and the occasional reference to side projects. Where some use their Instagram to show off spouses or kids, Harbour's almost reads like a Stranger Things fan account, with the tagline "The only good demogorgan is a dead demogorgan."
His schedule also seems to be pretty jam-packed with work, between filming and promoting Stranger Things, along with movie side projects as well. But perhaps he's just trying to keep his relationships on the down-low?
The problem is that the last time he was in a relationship with a fellow actress, they happily paraded for the paps whenever possible.
Now, to be fair, his girlfriend at the time, Julia Stiles, was the far more famous of the two. But this was five years ago. Stiles, at this point, had taken a step back from her career since marrying Preston J. Cook, a camera assistant, last year. Now, it's Harbour who is manning the A-list.
But it seems like if Harbour were dating, he would probably wind up with another actress, and the paps would be all over it, with couples photos at fan convention red carpets and so forth.
Instead, Harbour seems to be enjoying his single status, taking advantage of his lack of commitments or family to bask in his celebrity run as long as it lasts.
Here he is posing to thank the Golden Globes, in his Chief Hopper costume, with just a little embellishment.
I tip my hat to you @goldenglobes for the nomination. My Christmas present came early this year. You got me feeling all the holiday feels.
And in another photo, he's recognizing both himself and Millie Bobbie Brown for their SAG nominations.
Just in time for the holidays, angry Santa and his telekinetic squirrel killing elf got noms for the @sagawards . As did the entire ensemble of @strangerthingstv for best ensemble in a drama! Love this cast so much. Slimy dead demodog stocking stuffers for all you naughty kiddos, and for the nice ones a bunch ious for NON SPOLIER (OKAY @netflix ALRIGHT GUYS OKAY WHATEVER) bts photos of us starting the s3 shoot in the new year.
Can't wait for those behind the scenes photos for Season 3!
And did you catch him showing that he could have been Steve Harrington's older brother?
Dammit...I wish I knew how to quit you @uncle_jezzy
But my personal favorite image is this photoshopped one he shared, created by a superfan of the show that uses his actual yearbook photo to create a 1950s-era yearbook for the Hawkins High School seniors, including himself and Joyce...Horowitz?
Jane dug through the attic and found this last night. Hasn't stopped giving me shit about how stupid I look in a penguin suit. Thank god she doesn't understand the concept of maiden names. It's embarrassing enough to see myself next to the 'ex' right there in black and white. All credit to @TheShervinator on twitter. The favors he must have had to call in to find that actual yearbook photo of me is mind boggling
(Also, note John Harrington, who we assume is Steve's father, two rows above.)
But these images, as fun as they are, are no closer to telling us if Harbour is seeing anyone. But if he has time to be posting this stuff, then it's probably a good bet he's not spending that time going on dates.
We'll find out for sure when he walks the red carpet for the Golden Globes in January.