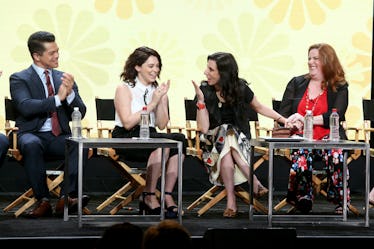 'Crazy Ex-Girlfriend' Hasn't Been Renewed For Season 4 Yet & Fans Are Starting To Panic
Frederick M. Brown/Getty Images Entertainment/Getty Images
We all have that one show that we watch devotedly, despite knowing that it's not the most popular and that people will stare at you blankly if you ever mention the show in conversation. These type of shows are often the wittiest and most unique stories currently on TV, but a bad time slot or poor marketing choices may have affected their viewership. For many TV watchers, that particular show is Crazy Ex-Girlfriend. The CW series wrapped its third season in February and was praised for its depiction of mental health issues, but its poor ratings have fans worried for the show's future. With network renewal and cancellation announcements approaching, is Crazy Ex-Girlfriend Season 4 happening? The chances are mixed.
TVLine reports that show creators Aline Brosh McKenna and Rachel Bloom, who stars in the musical comedy as Rebecca Bunch, have always said that they have a four-season plan for their story. In an October 2016 interview with Vanity Fair, Bloom said that they have this specific plan completely mapped out:
This is about a young woman in a very specific time in her life, going through a crisis. And that just doesn't sustain itself for nine seasons. I'm an avid TV watcher, and I feel like a lot of shows peak around Season 4, Season 5, and just last way too long. We didn't want to say seasons. They were kind of like four sections of this person's story.
However, speaking to Vanity Fair again last November, when Rebecca had been diagnosed with borderline personality disorder on the show, Bloom revealed that the focus on the character's mental health was never in the original plan.
That was something that became clear as we were writing the character. You know, I think that this character is a mix of me and Aline. . . . At first it became exaggerations of stuff within us. But as she started doing more diabolical stuff, right—like throwing a brick through a window; getting a fake boyfriend; having that pregnancy scare — these kind of outward plot devices pushed the character beyond, emotionally, what Aline and I had experienced. It's almost like the plot kind of dictated her emotional swing, even more than we'd planned.
Veering away from their original outline from the show may mean that the women's plans for four "cycles" is disrupted. While it wouldn't be ideal for the show to be cancelled without a proper sendoff, perhaps Bloom and Brosh McKenna's four-year plan has changed enough that, even if they were rewarded with a Season 4, they'd struggle in fitting in everything they want to. However, showrunners wrap up series when they need to, so with Bloom and Brosh McKenna's original plan in mind, a potential Season 4 sounds like it would likely be Crazy Ex-Girlfriend's last.
But, seeing as there has yet to be an official announcement about a new season, fans are still panicking that Crazy Ex-Girlfriend has left their lives without a real goodbye.
Rest easy, fans, there's still some hope for the show's return. In a move that could help earn the show its fourth season, The CW is expanding its primetime schedule this fall to include Sunday night programming. The decision greatly increases both Crazy Ex-Girlfriend and Jane the Virgin's chances of renewal despite shaky but steady ratings. Airing its third season on Friday nights, which isn't the most desirable time, Crazy Ex-Girlfriend finished as one of TV's lowest-rated hour-long shows.
Apart from a Golden Globe award Bloom received for her acting in Season 1, the show also hasn't garnered much award show praise, which is another reason the network could easily part with it. But then again, when do CW shows ever see some action at the Emmys or the SAG Awards?
Broadcast networks are expected to determine which shows won't return for a new season by mid-May. The possibility of Crazy Ex-Girlfriend's renewal is varied, but it looks like The CW's new extra night of primetime may help the show see another day.