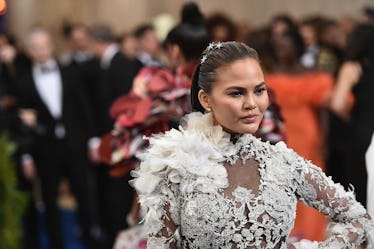 Chrissy Teigen Had Way Better Plans For Met Gala Night & TBH I'm Jealous
Mike Coppola/Getty Images Entertainment/Getty Images
The Met Gala is here and so are all the celebs. So, far cameras have captured Shawn Mendes, Rihanna, Cardi B, and Anne Hathaway walking the red carpet. But is Chrissy Teigen at the 2018 Met Gala? Teigen is super duper pregnant right now, so curious minds want to know if she's going to be walking the red carpet with hubby John Legend. And the fact of the matter is that no, Chrissy Teigen is not at the Met Gala this year.
Teigen, who is due to have her second baby in June, had better plans. Ones that included putting her feet up on the couch and catching her celebrity friends on her phone, actually!
Teigen is often a fixture at the Met Gala. She's been attending almost every year for the past few years and her style choices are always 100 percent on point. Alas, this year, we won't be seeing that awesome Teigen-Legend style that we've grown so accustomed to.
Oh well. Instead, the mom-to-be posted a photo of herself on her Instagram account:
It's obvious she desperately wanted to be at the Met Gala. She's a model, after all. Fashion is the name of her game!
But since Teigen is so close to her due date, she had to do what was best and take some time off to keep her baby bump as healthy and as happy as humanly possible. Which is totally understandable. She looks super relaxed, though. I'm so jealous!
Last year for the Gala, Teigen and her handsome husband, John Legend, made a splash on the red carpet and on social media. Teigen posted a risqué photo to her Instagram page just before the big night that made it clear she and Legend were pumped and ready to go to the gala. The caption read, "Readddddy. #metball."
I guess it's safe to say they got ready in bed? Well, even so, they looked pretty awesome together on the red carpet that night.
But not everyone was in love Teigen's 2017 look. That didn't stop the model and cooking queen from defending her fashion choices, though. As everyone knows, Teigen has pretty low tolerance for online trolls that hate on her and her husband. And in this case, when a troll said she looked "like someones kids crappy arts and craft project," Teigen clapped back.
Yeah, this is Twitter 101, basically. Don't mess with Chrissy Teigen because she will roast you without a second thought!
But all that stuff from last year aside, Teigen is doing what she needs to right now to be in the best possible mindset for giving birth. And you know what? I don't blame her. The world is waiting for that little baby to arrive! So, it's great that she's enjoying some down time!
Teigen is due to give birth to a baby boy, reportedly in June. And she and Legend couldn't be happier. The two are busy nesting in preparation for their new arrival, and Legend is even cooking for Teigen as she works through her last trimester. How sweet!
No word yet on what they're planning to name the little one. Teigen has recently been joking that she's thinking of going with a super inappropriate name. I doubt she and Legend will go that route, though. They do have great senses of humor, so I wouldn't out it past them for a second!
So, basically Teigen and Legend have a lot on their plates right now and that they're taking time away from the spotlight and the red carpet is an awesome move! How can you not love them?