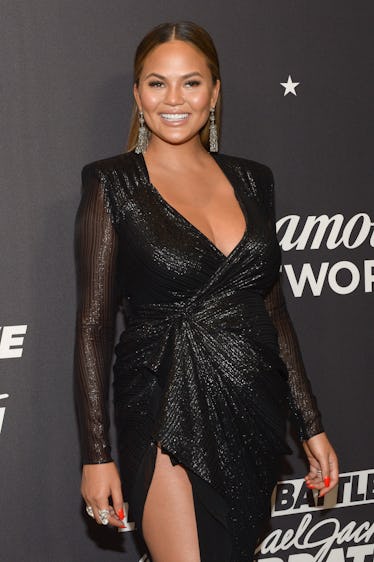 Chrissy Teigen Wasnt At The BBMAs, But She Trolled John Legend On Twitter Anyway
Tara Ziemba/Getty Images Entertainment/Getty Images
I personally hope Chrissy Teigen would show up to every televised ceremony. Can you imagine her providing commentary for the Westminster Dog Show? Petition for that to happen, by the way. The witty model/cookbook author/Lip Sync Battle host has attended her fair share of awards shows in the past, but is Chrissy Teigen at the 2018 Billboard Music Awards?
Unfortunately, she sat this one out — but she has a pretty decent excuse.
Chrissy just welcomed a baby boy with her musician husband John Legend. She tweeted the news on the evening of May 16, writing "Somebody's herrrrrrre!" alongside baby bottle emojis. John retweeted her announcement. The adorable pair already has a daughter named Luna Simone, who was born in April of 2016.
She named the little guy Miles Theodore Stephens and he's the cutest little thing on Earth. "Hello, world! This is Miles Theodore Stephens," Teigen tweeted along with a gorgeous pic of the baby boy. "We are drowning in his little peeps and nuzzles. Our household feels overwhelmed with love. Thank you for all your well wishes!"
But Chrissy is never one to pass up the chance to troll on Twitter. She may not have been at the awards show, but she was watching from home with Luna and Miles at home. She decided to poke some fun at John on the red carpet.
CLASSIC CHRISSY! And John had a classic response.
Could they be any cuter? Actually, yes. Probably. The sky's the limit with these two.
John will be performing at tonight's BBMAs which is why Chrissy was anticipated to be in attendance — but obvs that change. John is not nominated for an award this year, but he has won twice in the past. In 2015 he picked up Top Radio Song and Top Streaming Song for his romantic hit "All of Me," which just happens to have been written for Chrissy. John has been nominated for seven Billboard Music Awards overall.
Chrissy skipped the BBMAs last year, despite the fact that John was performing. Naturally, she took to Twitter to clarify her absence:
She also went to "Magic Mike Live" that very same evening. Nice.
Chrissy even had the honor of playing host at the Billboard Music Awards alongside Ludacris in 2015.
Chrissy and John are a red carpet fan-favorite couple and the duo stepped out for the Grammys (Legend's a 28-time nominee) in February. Chrissy opted out of this year's Oscars, but tacos factored in, so we get it. Shout out to Mariscos Jalisco.
Chrissy was famously caught on camera taking a nap at the 2017 Oscars, but she made the most awards show impact after donning a very meme-able cry face at the 2015 Golden Globes.
As expected, Chrissy responded to becoming an instant viral sensation through a straightforward tweet:
Much of Chrissy's awards show experience comes from the fact that her hubby is constantly earning nominations for his versatile work. John is only one Emmy trophy award from nabbing an EGOT — he has 10 Grammys, an Oscar for Best Original Song ("Glory" from Selma), and a 2017 Tony for co-producing the revival of the play Jitney. Legend is actually up for another Tony this June, as he's one of the nominees for Best Score, having written a song for SpongeBob SquarePants: The Musical.
Chrissy's career has skyrocketed over the past few years. Cravings 2, the follow-up to her bestselling 2016 cookbook Cravings (her recipe for seared scallops is a game-changer, by the way), is due out in September. Teigen revealed to Brit + Co how it differs from her debut:
It's… more inspired by being able to travel in the last few years; it's a lot brighter… I like light, bright foods, beautiful foods, as long as they're nice and hearty still… I lean toward Indian food, Asian food, Moroccan food.
She'll also incorporate more Thai recipes thanks to her mother and ease up on the "ham" obsession she said she indulged in the first one.
Chrissy also continued to play the role of commentator on Paramount Network's Lip Sync Battle this year — the comical musical competition show went into its fourth season in January.
We miss you tonight, Chrissy. Congratulations on the new arrival!