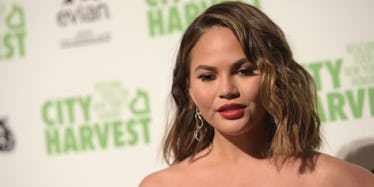 Chrissy Teigen Went To "Magic Mike Live" Instead Of The BBMAs And We Love Her
Getty Images
Chrissy Teigen was noticeably absent from the Billboard Music Awards on Sunday, and we all wanted an explanation.
She kind of tweeted one on Sunday night, saying,
My sister and niece live in Vegas. I'm hanging out with them and not trying to force my back into a dress. but watching #bbmas!
However, it turns out, that's not the whole story.
It wasn't just a low-key night in for Chrissy and her sister and niece. Nope, the girls really hit the town.
Lucky for us, Chrissy Snapchatted her night, and apparently the group went to see "Magic Mike Live" -- which I think is a more than acceptable excuse for skipping out on the BBMAs.
She may have started the night in a towel...
...but then she got dressed and things got really fun.
Chrissy asked, "Hello, ladies. What are we doing tonight?" And the group responded, "Magic Mike baby!"
And then...
...they stumbled upon a blow-up doll outside the hotel room.
Chrissy squealed, "It's got a pee pee!"
While he wasn't nominated, John Legend performed at the Billboard Music Awards, and looked handsome as ever.
Although the whole internet loves to see Chrissy and John walk a red carpet together, we also totally love that Chrissy does whatever she damn well pleases.
I mean, if you're going to go to Vegas, why wouldn't you see "Magic Mike Live"?
The show, which was conceived and co-directed by Channing Tatum, who starred in "Magic Mike" and "Magic Mike XXL," opened last month.
And Channing and Jenna Dewan Tatum think everyone needs to see it.
Well, specifically, Jenna said their 4-year-old daughter Everly needs to see the movie at least.
In an interview with HuffPost last week, she said,
 We got to show ['Magic Mike'] to her before one of her friends at school is like, 'I saw this movie your dad's in...' She's been at rehearsals so there's a part of her that probably gets it.
That's a legit reason, Jenna.
And Chrissy, we're glad you saw the live show because if you're going to skip out on a red carpet, we think "Magic Mike Live" is definitely a legit reason.