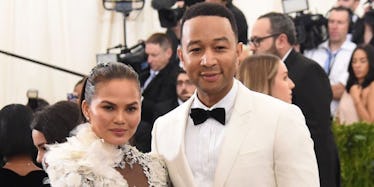 Chrissy Teigen Isn't With John Legend At The 2017 BBMAs, So What's The Point?
Getty Images
Let's talk about the real stars and winners of any awards ceremony or major event ever, no matter what: John Legend and Chrissy Teigen.
But for tonight's 2017 Billboard Music Awards, it looks like Chrissy Teigen is a no-show — at least on the red carpet — despite the fact that her husband John Legend is scheduled to perform tonight, she wasn't spotted alongside John.
So basically, this means we should probably just cancel this year's BBMAs, because what's even the point if the only celeb that matters (i.e. Queen Chrissy) isn't there?
Twitter has also picked up on the fact that arguably the best half of John and Chrissy is currently missing:
Well, we don't have to wonder where Chrissy is anymore, you guys. She finally tweeted letting everyone know why she wasn't gracing us with her presence:
The tweet reads,
My sister and niece live in Vegas. I'm hanging out with them and not trying to force my back into a dress. but watching #bbmas!
*vehement sigh* I guess the show will still go on, but at what cost for the rest of us?
Even though Chrissy's not at the BBMAs, it looks like she's popping around the United States with John for his current Darkness And Light tour (and visiting some family, obviously).
She recently tweeted, "Touring life with John is basically him resting his voice and never speaking and me saying 'are you mad at me' every 45 minutes." And honestly, same.
Who do I have to talk to so I can also experience touring life with John and Chrissy? Where do I apply? HELP ME, CHRISSY. I'LL DO ANYTHING.
While John's performance tonight will, of course, probably bury everyone who sees it at the center of the Earth the minute he sings the first note, I can't help but feel a little disappointed that I don't get to see my main girl Chrissy automatically win every award.
But hey, I feel you, Chrissy. If I don't have to force myself into an uncomfortable dress, I'm definitely not going to.
I'm sure she's done and is still doing much cooler things while in Vegas anyway. Maybe she's been chilling with Luna and her family. Maybe she's hitting up the casinos. (Hope you hit the jackpot and also hope you want to share it with me, Chrissy!!!)
Or perhaps she's still trying to figure out what the point of the Cannes Film Festival is anymore (aren't we all trying to figure that out?) after hilariously tweeting about how much of a mystery it is to everyone:
Let's be real, though: We all hope she's finding more ways poke fun at John (i.e. we all hope she's finding ways to make memes out of John's performance).
PLEASE KEEP THE MEMES COMING, CHRISSY. I can only live off of that Arthur drag for so long.
Here's how to tune in to the 2017 Billboard Music Awards to watch John Legend's performance and more.