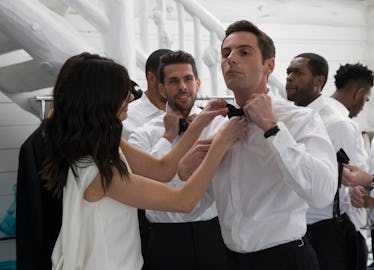 This Guy From Becca's Season Was Just Added To 'Paradise' & He'll Bring The Drama
ABC/Paul Hebert
When one door closes on The Bachelorette, another one opens in Paradise... Such is the nature of the game in the Bachelor-verse. The franchise has proven that a contestant's journey is never really over for good — there's always a spinoff just around the corner. Week six of Becca's season marked the end of the road for Chris following a dramatic series of episodes. Is Chris going to Bachelor in Paradise now that he got the Bachelorette boot? It sounds like Bachelor Nation hasn't seen the last of this controversial contestant.
Monday's Bachelorette saw the elimination of three of Becca's contestants — Lincoln, Connor, and Chris. Chris and Lincoln's ongoing battle reached a fever pitch at a "Beccalection" group date when they publicly went after one another. Chris claimed Lincoln fat-shamed him, Lincoln later called Chris "verbally abusive" and that he felt threatened by him. and Becca... was visibly beyond over it. It was an exhausting back and forth of name-calling, accusing, and defending that left poor Becca more frustrated and confused than ever. After two successful one-on-ones (Leo and Jason both received roses) and one group date gone wrong, Chris couldn't help himself and ended up going to Becca's hotel room in a dramatic huff. It was a left ditch effort to save himself and say his side in a setting away from the other men, but as expected, the odds weren't in his favor. Becca sent him home on the spot.
Becca may have cut things off with Chris prior to rose ceremony, but that didn't mean everyone else was safe. Lincoln and Connor both left at the end of the episode.
"I have to follow my gut but more importantly, I have to follow my heart," Becca told the men before handing out the coveted flowers.
Last night was certainly the end of the TV road for Chris and Connor. Following the broadcast, ABC took to Twitter to announce that the recent cast-offs will indeed "continue their journey for love on Paradise."
This is a pretty unsurprising development considering Chris brought the tension throughout his Season 14 run. Maybe audiences will see a different side of the Florida sales trainer when he returns to TV later this summer. BIP is the perfect place for reality redemption.
Chris is already taking steps to own his actions. He took to social media following Monday's episode to clear the air about his Bachelorette experience and even apologize to viewers (and Becca) for what unfolded on screen. A portion of his thoughtful Instagram caption read:
I lacked emotional intelligence which led to my disrupting behavior that was uncalled for. I was insecure which was unattractive. Thinking I was entitled was not only embarrassing but a disgusting mindset. Now that this journey has come to an end, I can only move forward and learn from my mistakes. I can now say goodbye to this journey knowing there's a positive in all of this and it's knowing I can become a better version of myself, which is something I'm extremely grateful for.
Chris and Connor join the already-announced initial roster of Paradise Season 5 contestants and they'll have some familiar faces by their side when they touch down in Mexico. John, Nick, Jordan, Joe, and David from Becca's Bachelorettte group are already confirmed. As it turns out, memorable male model Jordan is already teasing that the spinoff will show him in a different light.
"In Paradise, you get to see the other side, the actual human being I am," he revealed to the Citrus County Chronicle. "I'm not really obsessed with myself."
Jordan also divulged that he found romance on the show.
You never know how Paradise will flip the script. Perhaps Chris and Connor will be lucky in love a second time around.
Bachelor in Paradise premieres Tuesday, August 7 on ABC.