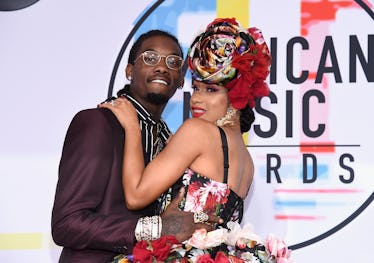 Cardi B Just Hinted She Could Be Pregnant Again, So Kulture May Have A Sibling Soon
Kevork Djansezian/Getty Images Entertainment/Getty Images
Cardi B just gave birth to her first child in July, but the rapper is apparently ready for baby number two! The new mom tweeted a very sus tweet on Sunday, Oct. 14, that's making fans question if she and Offset are on their way to expanding their family once again. Is Cardi B pregnant again? From the looks of her tweet, she could be. At the very least, she's definitely thinking about more children. Elite Daily reached out to Cardi's team for comment on this tweet and what it means, but did not hear back by the time of publication.
Cardi B and Offset welcomed their daughter, Kulture, into the world on July 10, 2018. The couple announced her birth the following day. They still haven't allowed fans to see a photo of their baby girl, which some fans are joking about in light of Cardi's tweet.
The rapper posted on Oct. 14, "Would ya be mad at me if i get pregnant again?" Soooo, Cardi, does that mean you already are pregnant, or you're just ready for another baby and are testing the waters with your fans? It's not entirely clear what she meant with her tweet, but fans are still scratching their heads wondering what the heck she means by her tweet and how long they'll have to wait for a Cardi B solo tour if she is pregnant.
Fans' reactions to Cardi's tweet about having another baby are pretty hilarious/show her fanbase's mixed feelings about the possibility.
To be clear, Cardi doesn't need the permission of her fans to have another baby. It's her choice, and that goes without saying, but the tweet does have fans wondering if Kulture will be getting a younger sibling sooner than anyone expected.
Cardi kept the first few months of her pregnancy a secret and then famously confirmed the rumors during an appearance on Saturday Night Live.
In a video of Cardi celebrating the announcement backstage right after her performance of "Be Careful," she said excitedly, "I'm finally free!" She most likely meant that she was free from keeping her pregnancy a secret and having to spend her time squashing rumors about her and Offset.
Some of those rumors included cheating rumors on Offset's end, which Cardi presumably confirmed to be true through the lyrics of several songs on her debut album, Invasion of Privacy. Ironically enough, "Be Careful" was the most telling song about Offset's rumored infidelity, and it was the song she chose to perform for her pregnancy announcement. The decision was probably motivated by the fact that the song was popular at the time, though, and not as a message to Offset. She talked about her decision to stay with him despite the cheating rumors in an interview with Cosmopolitan.
The rapper also dished on her pregnancy in an interview following her SNL announcement. "I'm a grown woman, I'm 25 years old, I'm a schmillionaire. ...I'm prepared for this," she said when asked about becoming a mother. "I don't want to wait until I'm 30-something to have a kid," she continued. "I want my kid now, now that I have energy." Based on her tweet, it sounds like she may have the energy for baby number two as well!