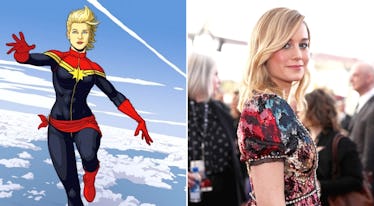 Here Are The Chances Of Captain Marvel Actually Showing Up In 'Avengers: Infinity War'
Marvel, Christopher Polk/Getty Images
Avengers: Infinity War is assembling all of the Marvel superheroes for a third time, but one of the most anticipated new additions to the team may have missed the call. Fans have been speculating for months about whether Brie Larson will make her debut as Captain Marvel in Infinity War or not. For a while, it sounded like a sure thing, but now things are a bit more complicated. So it all boils down to one question: Is Captain Marvel in Avengers: Infinity War or not? Let's break it down.
When Avengers: Infinity War was first announced, it sounded like a sure thing that Marvel would use the mega-ensemble movie as a way to introduce Captain Marvel. After all, the Captain Marvel standalone movie isn't coming out until March of 2019, so giving fans a quick glimpse of Brie Larson in action as the iconic hero alongside the other Avengers would go a long way in hyping fans up even more. When IGN visited the Infinity War set last year, the site reported that both the directors and writers had confirmed Captain Marvel was in the movie, and Brie Larson had a clearly marked mailbox in the production office to drive that point home even more.
But that all changed when Infinity War directors Joe and Anthony Russo revealed at Comic-Con that Captain Marvel would actually not be making an appearance in Infinity War, and was instead going to make her Avengers debut in next year's untitled Avengers 4. Although Brie Larson spurred on some rumors that Captain Marvel may actually show up in Infinity War after all by sharing some fan art on her Instagram, she edited her caption to clarify that it was not confirmation of anything.
So that's where we are at right now — after all the back and forth, it sounds like the Avengers are going to be facing off against Thanos without Captain Marvel's help in Avengers: Infinity War. And instead of flying in for Infinity War, Brie Larson will make her debut as Captain Marvel in next year's Captain Marvel, closely followed by a second appearance in Avengers 4.
Captain Marvel's absence from Avengers: Infinity War also effects one of the big theories about the new movie. Marvel fans have been waiting for the movies to reveal where the Soul Stone is for years now, and many believed Captain Marvel to be the answer.
Infinity War will center on an intergalactic warlord named Thanos who is on the hunt to collect the six Infinity Stones, gems of massive power that will grant the person who hold all of them control over the entire universe. Past Marvel movies have already shown fans the Space Stone, the Mind Stone, the Reality Stone, the Power Stone, and the Time Stone, but we have yet to see the Soul Stone. One of the many theories about the Soul Stone is that it might be with the only major Marvel hero that we haven't met yet: Captain Marvel. But now that we know Captain Marvel won't be flying into Infinity War, it seems like this theory may be kaput... unless the Soul Stone isn't even introduced until Captain Marvel?
Anyway, it sounds like fans are going to have to wait a bit longer to meet Captain Marvel, but it sounds like her standalone movie is going to be worth the wait. Captain Marvel will focus on the hero's origin story: A U.S. fighter pilot who gains superpowers after her DNA is fused with that of an alien. Since it is set in the 1990s, the movie will also bring back old Marvel favorites, like Samuel L. Jackson as a young, pre-eyepatch Nick Fury, Clark Gregg as Agent Philip Coulson, and Lee Pace reprising his Guardians of the Galaxy role as Ronan the Accuser.
Captain Marvel will land in theaters on March 8, 2019.