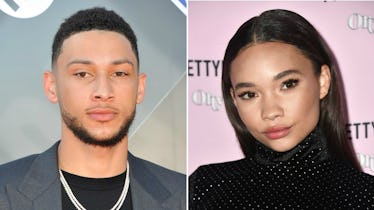 Here's Why Fans Think Ben Simmons Is Moving On From Kendall Jenner With This Model
Allen Berezovsky/Getty Images Entertainment/Getty Images | Frazer Harrison/Getty Images Entertainment/Getty Images
Ben Simmons' romance with Kendall Jenner may be over, but that doesn't mean he's not willing to move on to possibly greener pastures. In fact, Simmons may have already snagged himself another romantic partner. Simmons has recently been leaving comments on model Ashley Moore's Instagram posts. And she, too, has been dropping sly hints that there's more to their relationship than mere friendship. So, is Ben Simmons dating Ashley Moore? Fans certainly seem to think so.
This new romance is rumored to have gained steam thanks to Simmons and Moore's mutual love for showing each other love each other on social media. According to screenshots obtained by SportsGossip.com, Moore and Simmons have been exchanging flirty comments on social media and they recently started following each other on Instagram.
"Eczema waiting to happen," Simmons jokingly wrote on a gorgeous shot of Moore laying in a field of flowers.
Then Moore returned the favor, dropping the eyes emoji on a cute picture of Simmons, which came off totally flirty.
To add fuel to the fire, Moore posted a video to Instagram that's captioned, "trust the process." For all the basketball enthusiasts out there, you'll recognize that as the rallying cry for 76ers fans — the team Simmons just happens to play for. Should fans take that as a hint that there's a fall fling underway for Moore and Simmons? That remains to be seen!
Elite Daily reached out to Simmons and Moore's teams for comment on this story, but has not heard back at the time of publication.
Here's the video Moore posted with the 76ers-inspired caption:
News of Simmons alleged relationship with Moore comes just over a week after his relationship with Jenner reportedly went downhill. According to an Aug. 30 report from Us Weekly, scheduling conflicts were at the crux of their relationship issues, causing them to part ways for good. "Kendall and Ben's relationship is fizzling and dissipating due to scheduling conflicts," an insider source told Us Weekly. "Kendall is so busy and has so much going on and doesn't want to wait around for anyone. She knows there's always a hot new fling waiting around the corner for her."
Now that Moore is reportedly in the picture, it sure sounds like Simons was ready to get a moving in the romance department. Not that Jenner would be terribly upset about that. According to an Us Weekly report from July, she and Simmons weren't ever officially dating. At the time, a source told the magazine that Simmons and Jenner were "dating and exclusive, though not 'official.'" So, the Simmons-Jenner relationship was more of a fling than anything else. In any case, it looks like Simmons might have a new gal to pin his romantic hopes on and Jenner seems to be fully concentrated on her career. No love lost there, it seems!
Jenner and Simmons first started seeing each other back in May and kept a pretty low profile for the duration of the relationship. A July 11 report from People cited Jenner as the reason for the intense secrecy surrounding the relationship.
"She's being very private about her relationship with Ben. Kendall's really different from her sisters in that sense," a source told People. "She honestly doesn't want people talking about who she's dating and is very protective of her personal life."
Now that the relationship is reportedly over, Simmons is free to live as openly as he wants. If there's truth behind the rumors that Simmons is dating Moore, then I guess that means we'll be seeing more lovey-dovey Instagram comments soon.