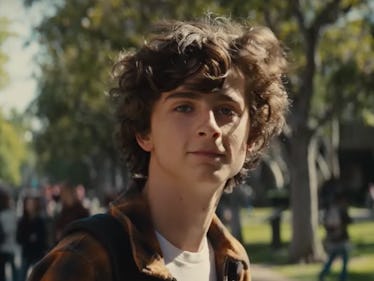 Here's Everything We Know About Timothée Chalamet & Steve Carell's 'Beautiful Boy'
Amazon
Timothee Chalamet is one of Tumblr's biggest obsessions, ever since his turn last year in Call Me By Your Name. He made history with his Academy Award as the youngest man to ever be nominated for Best Actor at the age of 22. He lost out to Gary Oldman, but this year, he's back in another role certain to be awards bait this coming fall. The film is called Beautiful Boy, the story of a teenage drug addict struggling to get clean. Is Beautiful Boy based on a true story? Tragically, yes.
Chalamet plays Nic Sheff, and Steve Carrell, best known for his role of Michael Scott in the American version of The Office, plays his father, David. Carrell is no stranger to Oscar nominations, either. Though he's best known for comedy, he was nominated back in 2015 for his role as John du Pont in Foxcatcher. Since then, he's done other dramas such as Freeheld, where he plays gay rights activist Steven Goldstein, as well as The Big Short, in which he portrayed banker Steve Eisman. The latter earned him a Golden Globe nomination for Best Actor as well.
The two of them look to be an unstoppable emotional tour-de-force in the next film. Check out the trailer and get out the tissues.
The film is based on not one memoir, but two. Both Nic and David wrote their own takes on the experience. Nic's was released first in 2007 and is entitled Tweak: Growing Up on Methamphetamines. David's arrived a few months later in 2008 and is called Beautiful Boy: A Father's Journey Through His Son's Addiction. The title of the film was derived from the latter book. Both were New York Times bestsellers.
The synopsis for Tweak is as follows:
Nic Sheff was drunk for the first time at age eleven. In the years that followed, he would regularly smoke pot, do cocaine and Ecstasy, and develop addictions to crystal meth and heroin. Even so, he felt like he would always be able to quit and put his life together whenever he needed to. It took a violent relapse one summer in California to convince him otherwise. In a voice that is raw and honest, Nic spares no detail in telling us the compelling, heartbreaking, and true story of his relapse and the road to recovery.
Here's the synopsis for Beautiful Boy:
What had happened to my beautiful boy? To our family? What did I do wrong? Those are the wrenching questions that haunted every moment of David Sheff 's journey through his son Nic's addiction to drugs and tentative steps toward recovery. Before Nic Sheff became addicted to crystal meth, he was a charming boy, joyous and funny, a varsity athlete and honor student adored by his two younger siblings. After meth, he was a trembling wraith who lied, stole, and lived on the streets. David Sheff traces the first subtle warning signs: the denial, the 3 A.M. phone calls (is it Nic? the police? the hospital?), the rehabs. His preoccupation with Nic became an addiction in itself, and the obsessive worry and stress took a tremendous toll.
Sheff's book, and Nic's concurrent memoir, both grew out of David Sheff's The New York Times Magazine 2005 article, "My Addicted Son."
Since then, both have gone on to write follow-ups, including David Sheff's Clean: Overcoming Addiction and Ending America's Greatest Tragedy and Nic Sheff's We All Fall Down: Living with Addiction.
The film Beautiful Boy is being released via Amazon Studios, which is also promoting both memoirs as well via Amazon's bookseller arm. Beautiful Boy arrives in theaters on Oct. 12, 2018.