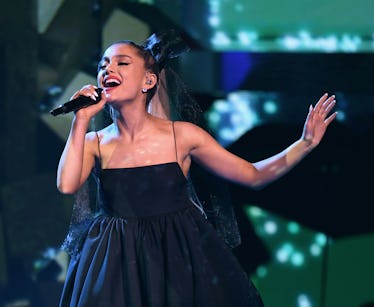 The Photos Of Ariana Grande's New Bling Have Me Convinced It's An Engagement Ring
Kevin Winter/Getty Images Entertainment/Getty Images
Singer Ariana Grande and SNL's Pete Davidson have been dating for what feels like a total of five seconds, and they're already reportedly engaged. I took longer to write this sentence than Davidson apparently took to put a ring on her finger. But hey, when you know, you know, I guess. Anyway, who cares about the actual engagement itself, am I right? We're here to talk about one thing and one thing only: Is Ariana Grande wearing an engagement ring? Trust me, when you see the photos of what's reportedly her engagement ring, you're gonna want to marry the first person who gives you a ring like this, too.
OK, so here's the lowdown on the whole Grande-Davidson thing that I personally still can't wrap my head around. According to E! News, Grande and Davidson began dating back in May 2018, following Grande's breakup with rapper Mac Miller and Davidson's breakup with Cazzie David. A source claimed to the publication that the two were keeping things v casual.
Well, so much for keeping things chill, because as of June 11, the two are reportedly engaged. A source claimed to Us Weekly that Grande and Davidson "were telling people that they're engaged" while celebrating Robert Pattinson's birthday. (LOL, WHAT?) Still, because this couple is apparently holding on to whatever chill they have left, another source claimed to Us Weekly that "they [Grande and Davidson] are not rushing to get married."
We'll see how that goes in another month, but in the meantime, peep these wild photos of the utter rock that is Ariana Grande's reported engagement ring:
In the video above, you can see Grande wearing a ring on ~the finger~. This interview with REAL 92.3 took place on Friday, June 8, 2018. Yes, that's before the engagement reports started circulating. Yes, we're all oblivious apparently because HOW DID WE MISS THIS? Seriously, I think I'm blind in both eyes now after looking at that thing directly.
You could literally see this bling from space if you looked hard enough.
From the looks of this grainy video, the ring appears to be teardrop-shaped, with a, well, very large freaking diamond. According to TMZ, the ring reportedly cost almost $100,000 dollars, took literally two weeks to create, and was custom-designed for Grande. TMZ also reports the ring was the brainchild of Mr. Flawless, otherwise known as NYC jeweler Greg Yuna. You can peep a close-up video of Grande's truly wild engagement ring here.
During Grande's recent performance at iHeart Radio's Wango Tango event on June 2, it looks like she was also sporting a pretty large ring on THAT finger...
Now, now, now, I know what you're thinking. "That could be any old ring! Maybe she just likes to wear it on that finger!" Yes, that may very well be true, and truth be told, the ring Grande's wearing during the Wango Tango performance could just be costume jewelry. But we're here to discuss The Facts. Granted, The Facts are slim here, because nobody knows what's really going on, but still!
Anyway, an interesting discovery that lends itself to the idea that Grande and Davidson did get "engaged," and that the ring Grande's wearing is an engagement ring, is the tweets that Grande herself has liked on Twitter following the engagement reports:
So yes, it may just be any old ring, but considering she's wearing it on THAT finger, and she's liking tweets about her being engaged, it seems like this is a pretty convincing argument.
Who knows whether or not this is just an elaborate joke from Grande and Davidson. (And if that's the case, then truly well-played, my friends.) Regardless, many a source claims the two are really fond of each other. "They are both constantly making each other laugh," the source told Us Weekly. "Their moms have met. They've been very public with their relationship on social media, and they are very in love."
The couple's reported engagement isn't the only sign of things moving fast between them. On June 2, Davidson debuted two new tattoos, courtesy of tattoo artist London Reese, and both of them are a nod to Grande. One is a an image of Grande's iconic bunny ears from her album Dangerous Woman, and the other is the initials A.G. Either Davidson has a secret grandmother named Agnes Goldstein that nobody knows about, or that A.G. stands for Ariana Grande.
Again, TBD on whether or not Grande and Davidson are actually engaged, or if they actually get married as fast as they get engaged. We'll find out soon enough. If you need me in the meantime, I'll just be gawking at that huge rock on Grande's finger until my eyes pop out of my head.