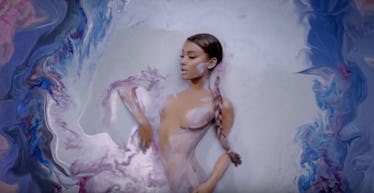 Fans Think Ariana Grande Teased Her Pregnancy In The "God Is A Woman" Music Video
YouTube
Ariana Grande debuted the stunning music video for her new song "God Is A Woman" on July 13, but the release did not come without speculation from fans. At one point in the dreamy clip, Ariana sprouts an animated baby belly, prompting viewers to wonder one thing: Is Ariana Grande pregnant? Considering the content of the song, it seems the visual is just a nod to the amazing power of the female body, although that didn't stop people from jumping to conclusions.
The "God Is a Woman" video is filled with all sorts of ethereal shots of the pop star channeling her inner and outer goddess. She's surrounded by a galaxy, she's swimming in multi-colored tie-dye-esque body paint, she's emerging from an enormous candlelit flame, she's performing death-defying stunts, she's at the center of her own rendetion of Michaelangelo's Creation of Adam. At one point, Ariana is even perched on top of the earth. She's every woman and herself and she's capable of anything, and she's literally got the whole world in her hands. The concept is a beautiful compliment to the song's sensual message, but of course viewers can't help but discuss one detail.
A portion of the lyrics to Grande's God Is a Woman read:
I'll tell you all the things you should know. So, baby, take my hand, save your soul. We can make it last, take it slow, hmm. And I can tell that you know I know how I want it. But you different from the restAnd boy, if you confess, you might get blessed. See if you deserve what comes next. I'm tellin' you the way I like it, how I want it.
Ariana has been teasing the song and her upcoming album Sweetener — which is expected to be released on August 17 — on social media. Ariana's fascination with the universe and all things intergalactic come as no surprise to those who pay attention to her, and it seems as though her interests have found a way into her art, as God Is a Woman features imagery pointing to the ideas. The 25-year-old recently explained to Elle:
The planets, the stars, there's nothing more humbling than that sh*t. We get so stressed about little things when, in the big picture, we're just a speck of dust on this tiny planet in this enormous solar system that is also a speck in a huge, mysterious black hole situation, and we don't even know what it is! ... Thinking about how small we are, it's crazy. We are nothing.
Ariana discussed her new tracks with Fader, opening up about her musical evolution and how emotional the experience of creating the songs on Sweetener was:
I've always just been like a shiny, singing, 5-6-7-8, sexy-dance…sexy thing. But now it's like, 'OK … issa bop — but issa message. Issa bop but also has chunks of my soul in it. Here you go. Also, I cried 10 hundred times in the session writing it for you. Here is my bleeding heart, and here is a trap beat behind it.' There's definitely some crying-on-the-dancefloor stuff on this one.
Ariana's personal life has been making headlines leading up to Sweetener — she struck up a whirlwind public romance with SNL's Pete Davidson and the pair announced their engagement after just a few weeks of dating. Pete has been by her side throughout the last month as she preps to unveil her fourth studio album, expressing words and photos of support and promotion for his fiance via social media. "GIAW music video and my wisdom teeth are now," he captioned an Instagram pic the morning of July 13.
The God Is a Woman video may symbolize a lot, but that doesn't mean Ariana's trying to tell fans something about her personal life. One thing's for sure: the song itself is an intoxicating banger.