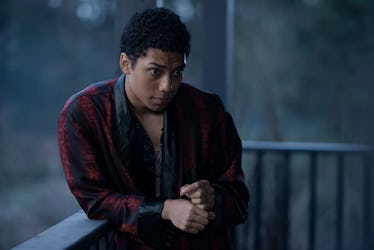 This 'Chilling Adventures Of Sabrina' Character Had A Very Different Role In The Comics
Diyah Pera/Netflix
This post contains spoilers for Chilling Adventures of Sabrina. The Spellman family in Chilling Adventures of Sabrina isn't quite the distinctly female group that appeared in the sunnier series Sabrina the Teenage Witch. The Netflix drama's new addition Ambrose, Sabrina's warlock cousin facing 75 years of house arrest, actually has a history beyond the teen witch's TV equivalents. Is Ambrose in the Sabrina comics? The character first appeared in a very different form when the original comic series debuted.
Chilling Adventures of Sabrina is quick to explain the backstory of Cousin Ambrose (Chance Perdomo) for longtime Sabrina fans who are accustomed to Spellman masculinity coming from the family cat Salem. Although the pansexual English warlock is seen at the Spellman home as a bathrobe-wearing mortician, he once led an extravagant, globe-trotting life of writing poems at Oxford, painting with Surrealists, and teaching magic to Harry Houdini. After he was caught trying to rob the Vatican, Ambrose refused to reveal the names of his co-conspirators, leading to his house arrest. While their aunts took active roles in pushing Sabrina toward accepting her Dark Baptism, the mischievous Ambrose nudged her toward ways to avoid it, foreshadowing the many times throughout Season 1 that he dished out solutions for her troubles.
The eccentric character makes the Spellmans an even more intriguing family, but Ambrose isn't unique to just Chilling Adventures of Sabrina. Although he didn't appear in the late '90s TV series Sabrina the Teenage Witch, he stems from the original Sabrina comic books in the 1970s, in which Ambrose made more than 50 appearances. In those illustrations, a middle-aged Ambrose wears a suit and has a mustache, presenting himself as a fashion-forward warlock. Chilling Adventures of Sabrina's Ambrose was a debonair dresser when he had the chance to leave the house, but his own special flairs come from the version of the character in the show's specific source material, the Chilling Adventures of Sabrina comic books.
In the Chilling Adventures of Sabrina comics, writer Roberto Aguirre-Sacasa re-envisioned Ambrose as a younger and more sarcastic presence. The comics reveal that he was banned to living with Aunt Hilda and Aunt Zelda at the Spellman Mortuary because he revealed himself to mortals, and while Ambrose is a very solitary character in the Netflix series, his comics equivalent has two cobra familiars. While Sabrina's own familiar Salem still appears in Chilling Adventures of Sabrina, he is mute, living as a goblin rather than a warlock before he became a cat. This change allows Ambrose to become the heroine's sardonic partner-in-crime, so if Salem's witty comments were your favorite thing about the first Sabrina TV series, the Netflix show still has a lovable character who sums up your wittiest thoughts about Sabrina's antics.
As Perdomo told E! News, Ambrose certainly has the makings of the distinct, cunning men the internet can't help but adore. The English actor said of Ambrose, "Think Jimi Hendrix and David Bowie and think Loki. Now think if they had some sort of like weird, magical three-way baby, that is Ambrose Spellman."
If that description didn't make you love Ambrose even more, then finishing the first season of Chilling Adventures of Sabrina ought to do it. Here's to this comic book character meeting a brand new audience via his appearance in the Netflix show.
Chilling Adventures of Sabrina is currently streaming on Netflix.