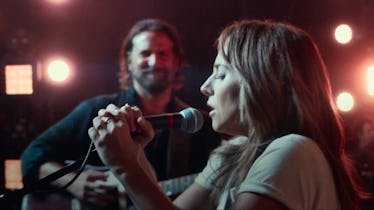 Here's The Truth Behind Ally's Character In 'A Star Is Born'
Warner Bros. Pictures
Bradley Cooper's struggling songwriter might have propelled Lady Gaga's Ally to fame in A Star Is Born, but once she built her confidence, Ally became a star who definitely didn't need any backup. Different variations of the character have appeared in the three previous A Star Is Born films, but is Ally from A Star Is Born a real person? While Lady Gaga might not have chatted with a retired starlet about her experiences alongside a real-life Jackson Maine, the origins of the A Star Is Born story and Ally's character are rooted in truth.
In the 2018 version of A Star Is Born, Ally is introduced as a waitress who has struggled in pursuing her dreams of becoming a professional singer-songwriter. In the midst of facing his own drug and alcohol addictions, Cooper's Jackson encourages her to join him in performances and eventually on tour. As she enters the public eye, Ally begins a romantic relationship with Jackson, but as her star rises, Jackson hits rock bottom. The theme of an aging icon plucking a fresh face from obscurity is what this series of films is best known for, and although each leading lady likely took inspiration from previous actresses, the possibility of a there being a real equivalent to Ally is a little abstract.
According to Decider, the original 1937 A Star Is Born film is loosely based on the movie What Price Hollywood?. In the 1932 film, a waitress's life changes when she meets a Hollywood producer with an alcohol problem. The older movie was said to be based on silent film star Colleen Moore's experiences with her alcoholic husband, as well as the saga of her onetime director Tom Forman killing himself after his career plummeted. However, when the original A Star Is Born came out, reports emerged that the story was allegedly based on the demise of the marriage between Hollywood actress Barbara Stanwyck and the alcoholic vaudeville performer Frank Fay. This is one E! True Hollywood Story I need to see ASAP.
While you could definitely find hundreds of aspiring performers like Ally on the streets of New York or L.A., it seems that the real-life inspiration behind her actually stems from some of the movie industry's most iconic eras. Each version of A Star Is Born has renamed the two leading characters and tweaked details about them, so the character actually isn't as closely linked to this old Hollywood folklore as earlier leading women were. Since Ally is unique to this particular remake, Gaga is arguably more of an influence on her than Moore, Stanwyck, or any preceding A Star Is Born actresses.
In an interview with Elle, the singer said, "The character of Ally is informed by my life experience. But I also wanted to make sure that she was not me. It was a cadence of both."
Gaga also told the magazine:
For me, in music and acting, I'm always pulling from my past experiences, family dynamics, relationships, pain, happiness, joy. The roller coaster ride of my life — how that has kind of created this beautiful disco ball that's somehow refracted and fractured.
While the film contains plenty of subtle tributes to the women who have been in Gaga's shoes, the creation of Ally primarily comes from the joint efforts of Gaga and debut director Cooper. Based on the film's great response, it looks the duo have totally shaped a character who lives up to the powerhouse divas of past films.
A Star Is Born is in theaters now.