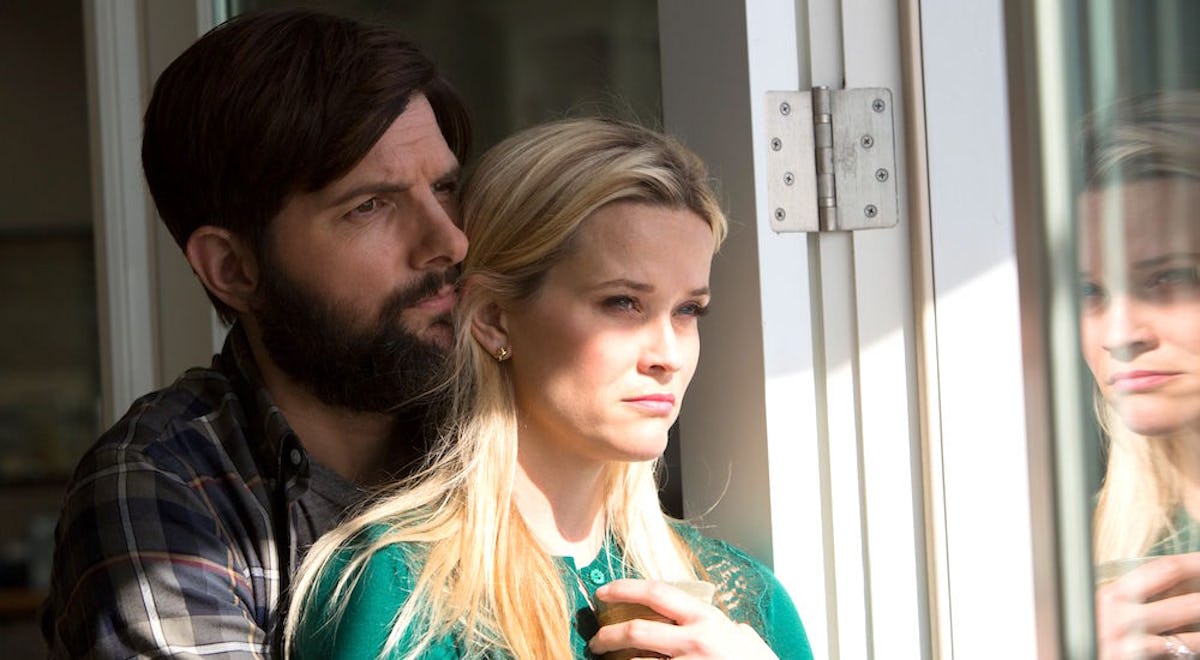 Adam Scott Is Coming Back For 'Big Little Lies' Season 2, So Get Ready For More Ed
HBO
Just in case you thought Season 1 of Big Little Lies didn't have enough marital turmoil, the show is teasing even more alongside the new announcement that Adam Scott will reprise his role of Ed in Big Little Lies Season 2. TVLine has just confirmed that Madeline Mackenzie's bearded husband will officially be back for Season 2, and he's bringing some juicy drama along with him.
First, a refresher on Ed Mackenzie. Adam Scott's character had a rough go of things in the first season of Big Little Lies. As Madeline's (Reese Witherspoon) second husband, Ed spent most of the season competing with Madeline's ex-husband Nathan, who was trying to build a relationship with the couple's teenage daughter together Abby. Throughout the season, Ed worries that Madeline is still in love with Nathan, and also grows rightfully suspicious of his wife's relationship with the school play's director Joseph. To sum it all up, Ed just spends the whole season arguing with Madeline about her fidelity, and although he actually does not know it, he was right to question it, since we find out that Madeline was indeed having an affair with Joseph.
Although Ed never found out about this affair in the first season, an HBO spokesperson is teasing that it will come to light in Season 2. After sharing that Adam Scott is returning to the cast for the new season, the spokesperson also said that Ed will be "forced to confront major challenges in his marriage to Madeline" when the show comes back. Hmmm, sure sounds like that means Ed will be finding out about Madeline's affair, and that could lead to Ed and Madeline getting a divorce in the new season. All we know for sure is that there is going to be major turmoil in the Mackenzie house in Season 2.
Adam Scott's Big Little Lies casting confirmation follows after the rest of the show's main cast has been officially confirmed to reprise their roles for Season 2: Reese Witherspoon as Madeline Mackenzie, Nicole Kidman as Celeste Wright, Shailene Woodley as Jane Chapman, Laura Dern as Renata Klein, and Zoë Kravitz as Bonnie Carlson. The cast is also adding the new character of Perry Wright's (Alexander Skarsgård) mother Mary Louise Wright, who will be played by Meryl Streep.
Madeline Mackenzie's affair is not the only hidden transgression from Season 1 of Big Little Lies that the show will focus on in its upcoming season. Of course, the main crux of Season 2 will revolve around Bonnie's murder of Celeste's abusive husband Perry. In the first season finale, we saw the truth about Perry's abuse get revealed to Celeste's close friends Madeline, Jane, and Bonnie, and when Perry confronted Celeste at the school's trivia night, Bonnie stepped in to defend her by pushing him down the stairs, inadvertently killing him in the process. After the death, the four women make a pact to cover up the murder, telling the police investigators that they had no clue what happened to Perry.
Presumably, that cover-up will continue and become the central part of Season 2, as Madeline, Celeste, Jane, and Bonnie must all hide the truth about Perry's murder from the world. Of course, the casting of Meryl Streep as Perry's mother will likely present a major road block. We know that Perry's mom will show up in Monterey to look into her son's murder, so it sounds like it will be those four versus Meryl Streep in a battle of wits this season.
Big Little Lies Season 2 will begin filming next month, and will premiere sometime in 2019.