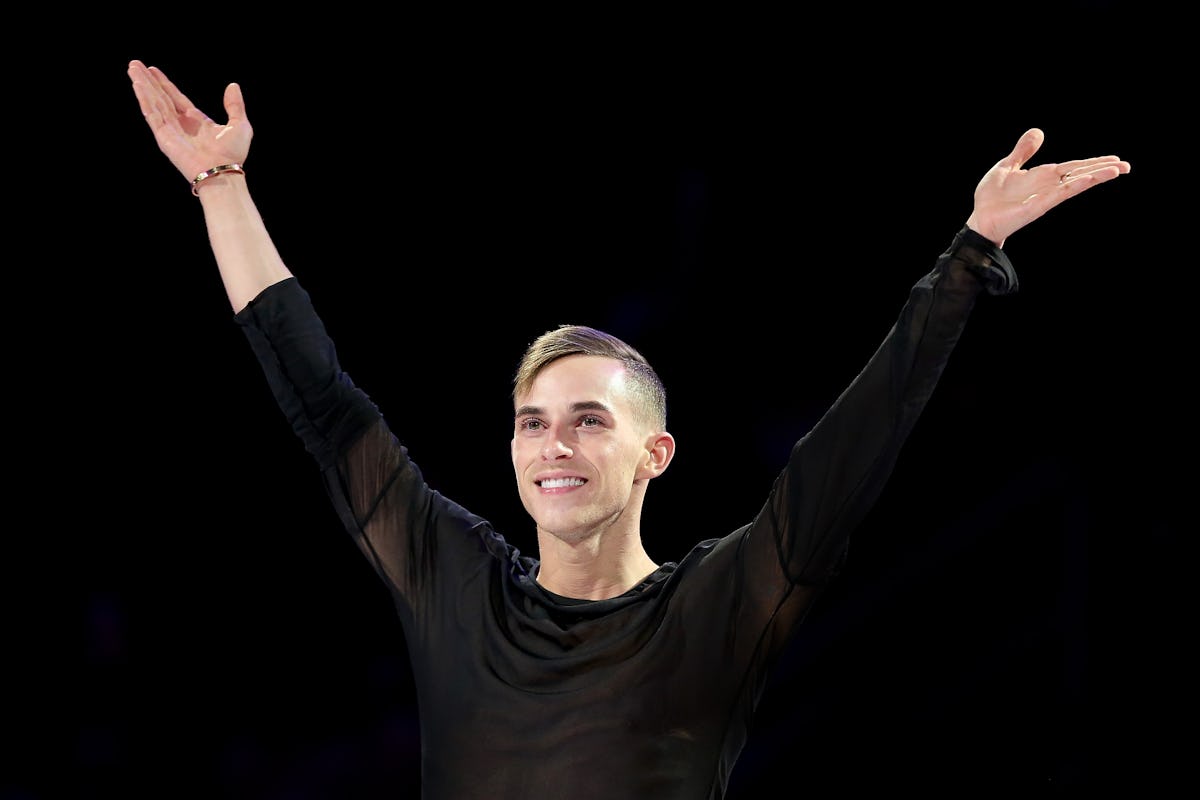 Adam Rippon Is As Pumped For The 2018 Olympics As You Are
Matthew Stockman/Getty Images Sport/Getty Images
The 2018 PyeongChang Olympic games have officially begun! The Olympics opening ceremony kicked off at 6 a.m. ET on Friday, Feb. 9, and people all over the world flocked to the live stream to watch the games get started and see all the athletes in one place to represent their countries. The opening ceremony will air again on NBC in primetime on Friday, Feb. 9 at 8 p.m. ET. One athlete fans are excited to see this year is figure skater Adam Rippon. The 28-year-old has been in news recently for rejecting a reported invitation to meet with Vice President Mike Pence. But is Adam Rippon at the 2018 Olympics opening ceremony, where Pence just so happens to be in the crowd? Well, he posted a photo of himself from Korea on Instagram the day before the opening ceremony, so there's no reason why he wouldn't have represented Team USA at the opening ceremony.
According to USA Today, Rippon, who came out as gay in 2015, denied a meeting with Pence because of things he has said about the gay community and legislation he has supported in the past. The meeting was reportedly offered to Rippon following another USA Today article in January in which Rippon said he wasn't supportive of the fact that Pence was chosen to lead the U.S. delegation in the Olympics opening ceremony on Feb. 9.
Rippon said, "You mean Mike Pence, the same Mike Pence that funded gay conversion therapy? I'm not buying it." (Pence has never been openly supportive of conversion therapy and his team denies that he has funded it, however, the New York Times reports that past vague statements on his website have lead to this speculation). According to reports, Pence's team reached out to Rippon the same day the article was published offering a meeting, and Rippon declined. However, Pence's team denies this.
Pence's team issued two separate responses to Rippon's claims. The first was in response to Rippon's claim about Pence supporting gay conversion therapy. Pence's press secretary, Alyssa Farah, said to USA Today, "The accusation is totally false with no basis in fact. Despite these misinformed claims [about conversion therapy], the vice president will be enthusiastically supporting all the U.S. athletes competing next month in Pyeongchang."
The following statement was in reference to reports that Pence offered a meeting to Rippon that Rippon declined. Pence's deputy chief of staff and communications director Jarrod Agen said in a statement, "The vice president's office did not reach out to set up a conversation with Mr. Rippon. As we've said before, the Vice President is supporting all the U.S. athletes in the Olympics and is hoping they all win medals."
Rippon still claims that he was offered to meet with Pence. He told USA Today,
If it were before my event, I would absolutely not go out of my way to meet somebody who I felt has gone out of their way to not only show that they aren't a friend of a gay person but that they think that they're sick. I wouldn't go out of my way to meet somebody like that.
Rippon also said in an interview with the outlet last month, "If I had the chance to meet him [Pence] afterwards, after I'm finished competing, there might be a possibility to have an open conversation." He continued,
He seems more mild-mannered than Donald Trump. … But I don't think the current administration represents the values that I was taught growing up. Mike Pence doesn't stand for anything that I really believe in.
Pence tweeted in support of Rippon and the rest of the Olympic team on Thursday, Feb. 8.
The first tweet read,
Headed to the Olympics to cheer on #TeamUSA. One reporter trying to distort 18 yr old non-story to sow seeds of division. We won't let that happen! #FAKENEWS. Our athletes are the best in the world and we are for ALL of them! #TEAMUSA.
He then tweeted directly at Rippon.
Yikes. But I wouldn't blame Rippon for denying a meeting with Pence. The vice president has long been against gay marriage and other legislation that would support the LGBTQ community.
Despite this drama with Pence, Rippon posted a photo of himself from Korea looking excited as ever to be at the Olympics.
He also had a tweet exchange with Reese Witherspoon, who shared how excited she was to watch him compete.
Rippon will be competing in the men's figure skating events this year, and you can livestream them at NBCSports.com or on the NBC app, as long as you have a cable login.
Erin Jackson is an inline skating world medalist and roller derby MVP. She dreamed of skating in the Olympics, but to do that, she had to get on ice. She took her first steps on a long-track course in 2016 and started training professionally in September 2017. Four months later, she qualified for the Olympic Winter Games. Check out Elite Daily Insights video on Jackson's incredible story:
To learn more, visit teamusa.org. The Winter Olympics will air live starting Feb. 8.