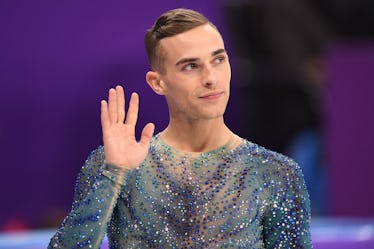 Adam Rippon Turned Down A Huge Opportunity To Be At The Closing Ceremony
Harry How/Getty Images Sport/Getty Images
The 2018 Winter Olympics have given viewers so many amazing moments while also having introduced some new fan-favorite athletes. There is one figure skater on Team USA that has definitely seen his fandom grow throughout the games. Yes, I'm talking about none other than newly-minted national treasure, Adam Rippon. Now that he's done with his Olympic competitions, fans have been wondering how to get their Rippon fix. So, is Adam Rippon at the 2018 Olympics closing ceremony?
Not only is Rippon a super talented figure skater, but he also happens to be the first openly gay figure skater competing for Team USA at the Winter Olympics. With talent and an affable personality to boot, people can't get enough of Rippon, but sadly all good things come to an end — and the 2018 PyeongChang Winter Olympics closing ceremony on Sunday, Feb. 25 marks the end of this year's Winter Olympic Games. If you're tuning in to see Rippon just one more time, you should be able to spot him in the crowd at the closing ceremony.
Rippon was present at the PyeongChang Olympic Stadium walking in the stadium with his fellow athletes. It's no surprise that Rippon was there at the closing ceremony representing Team USA right alongside his Olympic teammates — and he made a great appearance in teammate Mirai Nagasu's Instagram story, dancing along in the stadium during the ceremony.
Rippon also took to his own Instagram account at the Olympics closing ceremony, and posted two Stories to his account:
Before the end of the games (when Rippon himself was done competing), there was a report going around on Feb. 18 that Rippon would be an Olympic correspondent for NBC for the remainder of the Olympics. As exciting as that would have been, it didn't work out — but it didn't happen because of a pretty good reason that shows how great of a teammate Rippon is.
Rippon responded in a series of tweets to the report on Feb. 18 with the news that he had to decline NBC's offer because accepting it meant that Rippon would have to "leave Team USA and move out of the Olympic Village."
Rippon's decision was also based on the fact that he wanted to walk in Sunday's closing ceremony with his Team USA teammates, according to USA Today. After realizing that accepting a correspondent position would mean that he couldn't do that, Rippon knew he had to decline the offer.
Rippon also declined on the basis that he loves the opportunity to be on Team USA and represent his country, and furthermore, he wanted to remain on Team USA in order to support his teammates who were so supportive of him during his own events.
Thanks to his decision to turn down the correspondent offer, Rippon walked proudly with his U.S. Olympic teammates in the closing ceremony. Rippon has good reason to be proud of his Olympic performance, too. He helped the U.S. figure skating team earn a bronze medal in the team competition on Feb. 12. Although he didn't come away with any individual medals, Rippon still has some well-earned hardware to bring home with him from PyeongChang, South Korea.
Beyond the medals, Rippon has likely made so many wonderful memories throughout his time at the 2018 PyeongChang Olympics. I know his fans were living for his interviews as he competed in the games.
Rippon spoke to Andrea Mitchell in this interview early in the games, and he (in my opinion) secured his reputation of literally being the most fun person to talk with at the Winter Olympics.
I mean, c'mon, he responded to Mitchell's question asking what it's like to be at the Olympics by saying, "Andrea, it's, like, pretty awesome. I highly recommend it. If you ever have the option, like, come to the Olympics."
After that interview, all you probably want is the option to hang out with Rippon, right?
Highly unlikely Rippon encounters aside, it was great to see Rippon with Team USA one more time at the closing ceremony. All of the Olympic athletes competed their hardest throughout the games, and they deserve the chance to be recognized for their dedication — and thanks to Rippon's dedication to Team USA, you got to see him one more time as he walked in the closing ceremony.