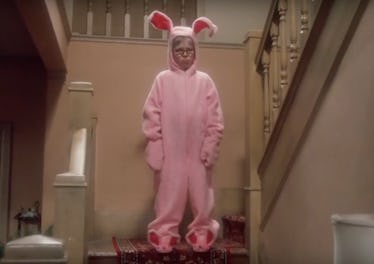 Different Ways To Watch 'A Christmas Story' This Holiday Season
Cuddling and watching festive movies is a perfect way to relax and bond with the fam' during your holiday break. Whether your Christmas flick of choice is Elf, Rudolph the Red Nosed Reindeer, or even one of thousands of Hallmark Channel movies (seriously, don't knock 'em 'till you try 'em), I think most of us can agree that A Christmas Story is undeniably a fan favorite. So, if you're one of many who are absolutely devastated that A Christmas Story isn't on Netflix, here's how to reconnect with Ralphie and his family this holiday season so you don't accidentally "shoot your eye out!"
If your family has an Xfinity account, you're in luck, because A Christmas Story is available for streaming there as of right now. Just click "Sign in to Watch," and enter your username and password. It's free to stream if you already have an existing account set up, so definitely make sure to check that out before you decide to pay to watch it.
But alas, few things in life are free, unless you're Ralphie's dad and you just won a "fra-jee-lay" leg lamp. Unfortunately, Xfinity is currently the only subscription-based site streaming our beloved masterpiece A Christmas Story this holiday season. If you don't have an Xfinity account, however, there are a variety of sites that offer renting and buying option, if you're more than willing to pay a few extra bucks for it (and we totally are).
The least expensive 24-hour renting options I found include: Google Play, YouTube or VUDU, where renting the movie only costs $2.99. Not such a bad price to re-watch one of the best Christmas movies of all time, am I right?
Renting A Christmas Story for 24 hours through Amazon, Microsoft or Fandango costs a dollar more, bumping the price up to $3.99 — which honestly isn't so bad for a 24-hour rental. It's still totally worth it, in my book.
If you are, however, looking to watch this movie every Christmas for many years to come, we honestly recommend just buying the darn thing. On most of these sites, including on iTunes, you can buy the movie for just $9.99 after signing into your account. So if you're a major fan of the movie and have plans to watch it more than once, you should really just purchase it so you can watch it again, and again, and again. Because why not? You have nothing to lose.
Also, as all of you die-hard fans probably already know, A Christmas Story, Live! is totally about to be a thing, and it's going to officially streamed at 7 p.m. ET on Sunday, Dec. 17 on Fox. Before waiting until the very last minute to set it up on your television this Sunday evening, we strongly recommend figuring out how you're going to watch it ahead of time. It won't be available through as many streaming services as you might think.
If A Christmas Story is truly your holiday movie of choice — and if you haven't already caught it on 25 Days of Christmas at some point or another yet this holiday season — there are definitely a few reliable sites to watch it online. Whether you decide to stream it through Xfinity, rent through a plethora of streaming sites, or actually just pay to buy it, there's pretty much no excuse for you to miss out on it this year. And most importantly, don't forget about A Christmas Story, Live!, because honestly, who doesn't want to see Flick get his tongue stuck to a frozen pole in real time?
Check out the entire Gen Why series and other videos on Facebook and the Bustle app across Apple TV, Roku, and Amazon Fire TV.