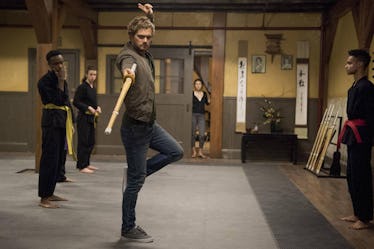 This Defender Will Be In 'Luke Cage' Season 2 & Here's What You Should Know About Him
Netflix
Luke Cage Season 2 arrives later this month, the second Netflix's Marvel series this year after March's second season of Jessica Jones. Luke was originally introduced in Jones' first season, but since then the two have not crossed over in their individual series. Instead, Cage is looking to crossover this time with a different standalone, bringing aboard a lead from another series. Iron Fist will be in Luke Cage Season 2. Some fans are fairly confused by this.
Jones and Cage, who had an easy chemistry together when they met. But when Cage met Danny Rand, the holder of the title Iron Fist, it wasn't a friendly encounter. As part of the crossover series The Defenders, Cage was really unimpressed by this rich privileged white kid and Rand was not used to being treated as if he needed to earn respect.
Rand grew up the only child of a billionaire family, until the day his parents were killed in a plane crash. Orphaned and threatened by the Hand, young Danny was rescued by monks and taken to the mystical city of K'un-Lun. There he trained to become the Iron Fist. Upon reaching his 20s, he began to question if guarding the mystical city was really what he wanted to do with his life. When he received what he believed was a sign to return home to New York, he followed.
Having spent decades in a tiny Asian village, Rand was ill-equipped to handle returning to NYC or taking back over the family business. He was as about as ill-prepared to handle it as custodians Joy and Ward Meachum were to hand it over. Rand wound up homeless and then committed to a mental ward, as the Meachums were threatened by his return.
When Rand finally escaped the mental ward, he ran to Colleen Wing, another martial artist who ran a dojo, who had been kind to him, and who the Meachums were trying to threaten into agreeing Rand was dangerous. Then he found lawyer Jeri Hogarth (a regular character in Jessica Jones) who was an old family friend. She gave him money and a place to stay while figuring out how to get him back to the head of his parent's company.
But getting his position back was only half the battle. Once Danny was reinstated, he discovered the Hand was in New York. (Something fans already knew from Daredevil) lead by Madame Gao.
Rand wound up fighting the Hand in New York and then traveling back to K'un-Lun in a desperate attempt to protect the city he loved from their attack. He failed. When he got to the gate, he discovered the city had disappeared.
Nowadays, Rand is stuck in New York, fighting the Hand here instead of there, and blaming himself for dereliction of duty. He's the main shareholder of Rand Enterprises, but he's a terrible businessman, so he leaves the day to day to the Meachums. Since Daredevil disappeared, believed to be dead after the events of The Defenders, Rand has taken over the vigilante game, keeping the streets of New York safe.
And it appears he and Luke Cage have managed to create a sort of odd couple friendship. This is not totally from whole cloth. In the 1970s comics, Iron Fist and Luke Cage were actually good friends, and worked together under the company name "Heroes for Hire."
Unlike Daredevil, Jessica Jones and Luke Cage, Iron Fist's standalone show was not well received when it premiered. By pairing him up with the far more likable Cage, Marvel and Netflix are hoping the "Heroes for Hire" magic will help garner the character more of an audience when Iron Fist Season 2 rolls around next TV season.
Let's hope for everyone sake it works. All 13 episodes of Luke Cage Season 2 arrives on Netflix on June 22, 2018.