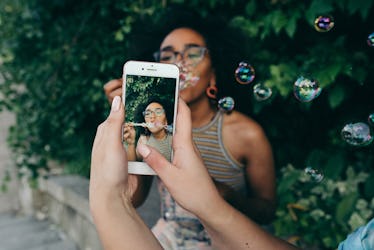 These iPhone X Video Tips Will Make Your Instagram Posts Fit For The Big Screen
Taking an Insta-worthy video on your phone definitely isn't as easy as it sounds. Unless you're filming carefree shots of you and your friends at brunch for your Story, you might have a difficult time shooting high quality videos that aren't shaky and out of focus. Of course, there are exceptions. Those of us who studied film or own a camera that isn't attached to an iPhone might be better at it — but for the rest of us, there's still hope. Apple's newest phone has an incredible camera that'll make filming seem like a breeze, and these iPhone X video tips will make your Instagram posts fit for the big screen.
Before we dive into video tips, let's go over the impressive camera on the iPhone X (it'll help you better understand the video features). The phone's 12MP (megapixel) lens has a new color filter, deeper pixels, and a new telephoto camera, according to Apple. Thanks to its TrueDepth camera, it even has portrait mode in the front and back of the phone, making it super simple to take professional-looking selfies. The TrueDepth camera also makes Face ID and Animojis possible... so let's just say it's a really big deal.
Now that you're a little brushed up on the iPhone X camera, we can talk about some awesome video features that come along with it. Get your director hat on, because after you learn about these features, you're going to want to scream, "action."
4K Video
If you're into photography, you might follow this a little better — but for everyone else, bear with me.
You can officially take 4K videos on iPhone X that'll be enhanced by dual optical image stabilization, and the lenses' aperture will make for high quality footage. The wide-angle camera of the phone has an aperture of 1.8, and the telephoto camera has an aperture of 2.4. FYI, the term "aperture" refers to the opening of a lens's diaphragm, and the amount of light that passes through it. You learn something new every day, right?
To take 4K videos on iPhone X, go to Settings > Camera > Record Video > Select 4K at 60 fps (frames per second).
Optical Zoom
Whether you're at a concert or in a crowd trying to film something far away, the iPhone X has your back. The impressive camera has optical zoom — all thanks to the dual-lens camera — which will make taking a video while you're zoomed in all the way a breeze.
Slow Motion Videos
If you don't think filming slow motion videos on your iPhone is downright hilarious, then I definitely don't believe you (because it is). Luckily, iPhone X takes slo-mo to the next level. When you're recording slow motion vids on the iPhone X, you have the option to record 1080p HD at 240 frames per second. In other words, you have the option to record a really high quality slo-mo video.
To record a slow motion video, go to Settings > Camera > Record Slo-Mo > Select 1080p HD at 240fps.
Time-Lapse Videos
Time-lapse videos are always fun, especially if you're filming a busy city street or capturing a gorgeous sunset. Thanks to video stabilization on iPhone X, you'll be able to take smoother time-lapses than ever before — whether you're walking around or holding the camera still.
To use the time-lapse mode on iPhone X, swipe to time-lapse in the camera, press the camera button, and start recording.
Now that you have a few iPhone X video tips up your sleeve, you can whip your phone out at brunch and really impress all of your friends. Plus, the videos you start posting on Instagram will be fit for the theaters... so get practicing!
Check out the entire Gen Why series and other videos on Facebook and the Bustle app across Apple TV, Roku, and Amazon Fire TV.