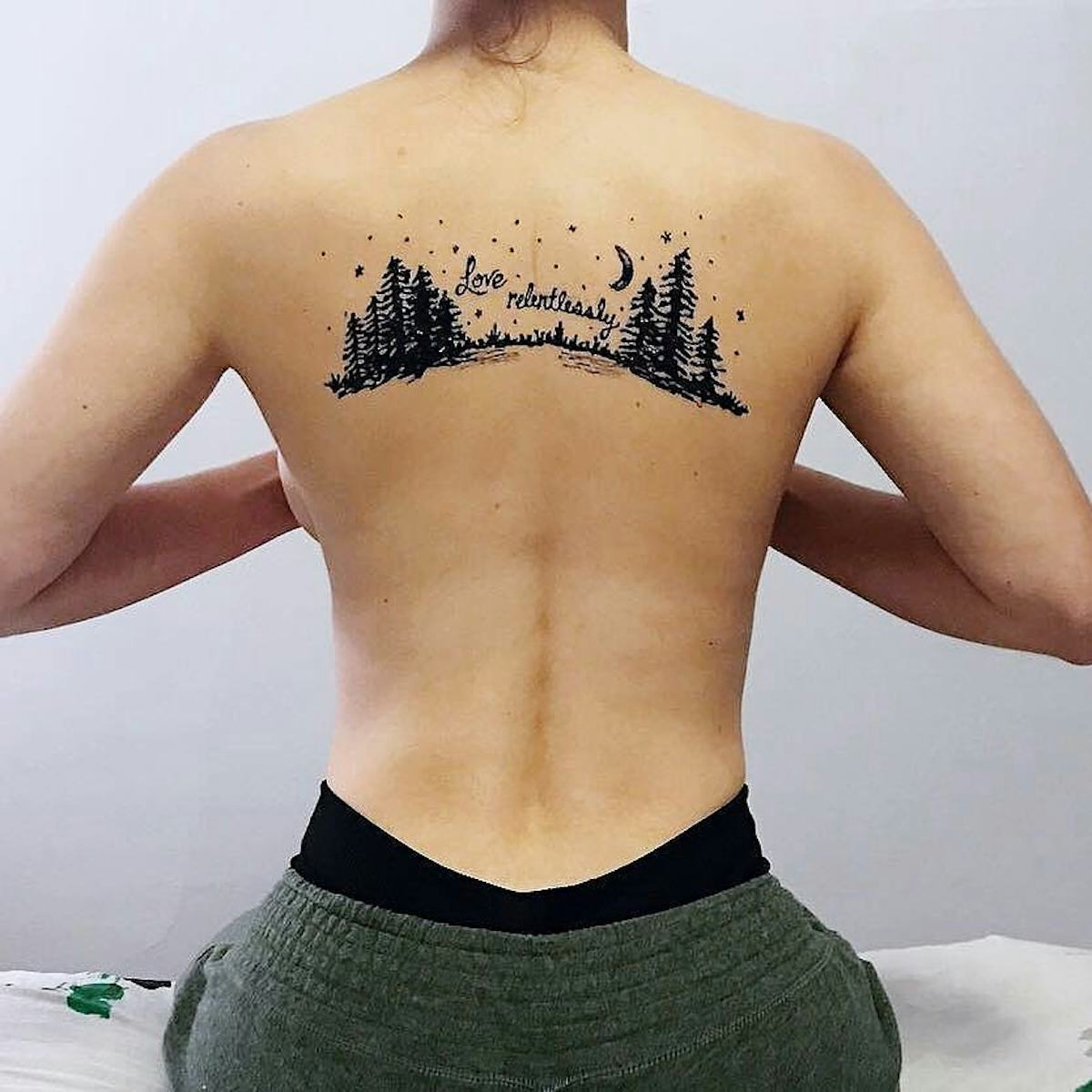 This Two-Week Tattoo Ink Is Perfect If You're Afraid Of Commitment, Aka Our Entire Generation
Tattoos have the power to turn human beings into walking works of art. If you're like me, you long to be covered in ink, but your anxiety and/or commitment-phobic tendencies might have prevented you from getting some permanent pieces. Luckily, Inkbox semi-permanent tattoos are here so you can test drive a tattoo without any panic attacks or immediate regret. Feel free to adorn yourself with as much art as you can handle.
I have a slight (major) tattoo obsession. When I was a kid, I would glue every temporary tattoo I could get my hands on to my arms, legs, and even my face. My skin was decorated with peace signs, smiley faces, and Lisa Frank rainbow critters. I'd proudly sport them until they started peeling off my skin or turning grey, leaving little splotchy patches of sticky rashes all over my body.
As an adult, I've finally committed to three tattoos that I was able to confidently select without any hint of regret, but if I wasn't so deathly afraid of major change, I would have been covered by now. I've fortunately (or unfortunately) outgrown the childish images I loved in the '90s, so most temporary tattoos are out of the question. Thankfully, Inkbox is here to provide all indecisive tattoo lovers with a solution to their ink hesitancy.
Brizzy Voices Collection in Pages, $19, Inkbox
Applying Inkbox semi-permanent tattoos is nearly as easy as the temporary tattoo process you remember from childhood. Just peel of the backing, place it on your skin, dab it with an alcohol wipe, press down with a warm cloth, peel off the stencil, and rinse the area gently with warm water.
Don't be startled if your tattoo is faint immediately after application. The true intensity will develop 24 to 36 hours later, and will last between eight and 18 days, depending on your skin type.
Unlike real tattoos, the Inkbox semi-permanent tats only sink into the top layer of your skin, the epidermis. Even though they look convincing, they won't permanently adhere to your body. That way, you can switch up your body art with every little change in your mood.
Inkbox offers hundreds of small, medium, and large designs that you can choose from. In addition to their permanent collection of tattoos, they also collaborate with artists and influencers, like YouTuber Brizzy Voices and tattoo artist Curt Montgomery, to create special limited edition collections. Whether you wish to rep your favorite fandom, or you want a temporary tattoo that's just convincing AF, there really is something for everyone.
TBH if it's good enough for the cast of Stranger Things, it's good enough for me.
For all the artists out there, Inkbox also offers Freehand Ink ($30; inkbox.com). With this bottle of plant-based ink, the only limit to your designs is your imagination.
Simply create your own personal masterpiece on your (or someone else's) body, let it set for one hour, rinse it off with soapy water, and then wait for the magic to appear.
If you need some inspo for more freehanded designs, just check out this amazing (and gigantic) wolf-centric piece.
This Twitter user's daughter also set the bar high with her psychedelic planetary piece.
Seriously, there is no limit to the masterpieces you can create. As long as you have a little patience and a steady hand, you'll be able to rock that tattoo you've always longed for.
The ink in all of Inkbox's products is naturally derived from the Genipa Americana plant, so feel free to create as many tattoos as you'd like without fear of any strange sensitivity or side effects.
So if you've been longing for some new ink, but you're afraid of the commitment, look no further than Inkbox. It's on point.