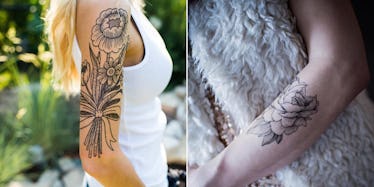 These Gorgeous Temporary Tattoos Look Just Like The Real Things
Instagram/Tattoo You
Ever since I was a little kid, I've had this strange obsession with tattoos.
No really, I'm not kidding.
I used to cover myself in temporary tats from head to toe, and when my mom refused to buy me more, I would resort to eating boxes of Cracker Jack because hiding at the bottom of each box, was the newest addition to my growing sleeve of faux Lisa Frank designs.
Yeah, I know. I was a really f*cking strange kid.
Back then, the selection of temporary tats was pretty bad and consisted mostly of cartoon characters and cheesy designs.
So needless to say, I stopped rocking those bad boys when I finally reached a point in life where pink pony tattoos were no longer an age-appropriate skin accessory.
However, I recently stumbled across a company called Tattoo You that makes all sorts of gorgeous temporary tats you'll want to wear as an adult.
The company has all kinds of minimalist designs and gorgeous ink, so you can try tons of cool tats that you won't regret 10 years down the road.
Take a look at the pictures below to see these awesome temporary tats.
If you've been suffering from some Instagram-induced ink envy...
But don't have the courage to go under the needle...
...I have some good news for you.
Thanks to the innovative company Tattoo You, you can now score those sleeves you've been eyeing...
...without all the pain and post-tat regrets of getting the real deal.
That's right. Tattoo You creates all sorts of amazing temporary tattoos...
That ditch the kiddie cartoon characters for some tasteful adult designs...
...which are actually created by renowned tattoo artists.
The tats range in price from 5 to 20 dollars and are applied just like the ones you used to wear as a kid.
However, these ones actually look like real ink...
...and they can last for up to two weeks.
The company has everything from gorgeous geometric tattoos...
And abstract body art...
...to dazzling water-color designs.
So yeah, if you're looking for me, I'll basically be covering my entire body in these things.
https://instagram.com/p/5ZyZQBurRo/embed/