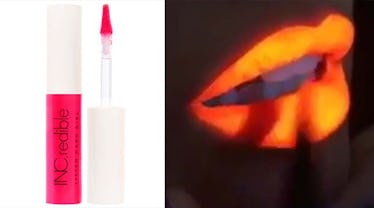 Incredible Cosmetics' UV Reactive Neon Lip Paints Will Get Your Lips Lit... Literally
Sephora/incrediblecosmetics on Instagram
I've donned many a neon lipstick in my time, but I've never expected my lipstick to actually glow. However, the new Incredible Cosmetics' UV Reactive Neon Lip Paints are raising the bar on all neon cosmetic products by actually being phosphorescent, just like a bright AF neon sign. Now your lips can be as lit as you, just in time for festival season.
If the INC.redible brand sounds familiar, it might be because they've been pumping out trendy, viral products like no other. This division of Nails Inc. recently made headlines with their INC.redible You Glow Girl Iridescent Jelly Highlighters ($12, Sephora) that delivers the illusive, viral flare highlight for an affordable price. Their two shades, Show Gold and Cosmetic Blur, were so heavily endorsed by beauty gurus that the product sold out online pretty much instantaneously. Now, INC.redible is slaying our lives again by producing an actual neon lipstick for only $10.
In the makeup community, neon generally refers to a specific type of color. Neons are those hues that are so bright, you practically have to squint your eyes to look at them, like Urban Decay's Vice Lipstick in Crash ($18, Sephora) or Chosungah 22's Lip & Cheek Face Color in Vivid Pink ($7; Sephora). Like the term holographic, the phrase means something a little bit different in the world of cosmetics than it would mean to most people. What you expect from a neon sign and a neon lipstick are two totally different things... until now, that is. INC.redible's innovative new formula has proved that neon lipsticks can actually be, well, neon. Their new products look bright AF when you first apply them and also literally glow under blacklight.
If you like to be extra AF with bright color, then you need these in your life.
INC.redible Listen Hard Girl Neon Lip Paint in She's Arrived, $10, Sephora
Neon makeup is not an easy thing to manufacture. As Allure reported, the FDA has strict regulations on the dyes that are allowed in cosmetic products, especially the ones you apply to your face. If you ever wondered why some of your favorite neon pigment palettes aren't actually referred to as eyeshadow palettes, this is why. Due to regulations, many neon colorants actually aren't approved for use on the face. However, INC.redible Cosmetics played by the rules and somehow managed to still defy all expectations with their new lip paint formulation.
The creamy matte mousse formula comes in two shades: She's Arrived, a super bright pink, and I'm Hot RN, an extra vivid orange. If you think the shades look bright in natural light, just wait till you see the magic under blacklight.
Hello, neon gorgeousness! Have you ever seen anything so mesmerizing in your life? Plus, at a sensible $10 a pop, you can both both colors and still have cash left over for some overpriced water at whichever festival you plan on attending.
I recently used these lip paints at a shoot, and I was so shook by the color, I nearly fell over. As a jaded makeup artist, I'm pretty hard to impress. When I rolled the product on to the back of my hand, I was floored by the brightness of the shades. I only tapped a little onto my model's lips in an attempt to create that bitten, blurry lip effect, yet the color remained vivid as ever. Whether sheered out or built up, these lip paints are neon by every definition of the word.
If you want to nab one of these lit AF lip paints, head over to the Sephora website and snag one for the price of a McDonald's large Big Mac meal. You'll be glowing brighter than the neon lights of Times Square in no time.