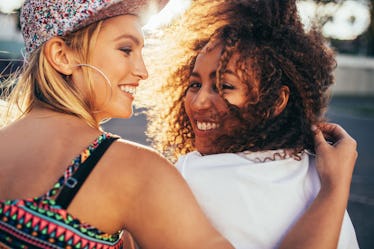 If You're A Millennial Who Has A Bestie Since Grade School, Your Friendship Has These 10 Qualities
Finding a true best friend can be a difficult task, and staying close to that bestie forever is even harder. That's why it's truly special that you've had the same BFF since you were little. You've found the PB to your J, and you're not letting them go anytime soon. Your bond is something unique, and you know if you've been friends since grade school with your BFF, your friendship has the qualities it needs to thrive.
You and I both know that not every friendship is the forever type, and that's totally OK. Some people come into your life for certain reasons, and eventually, you might drift apart. It's no one's fault other than maybe one of you moved away, or your interests have changed. It happens, but considering you've been BFFs with the same person since you were sharing Gushers at lunchtime and playing hopscotch at recess, you know you've found your person. It's because of these 10 qualities that you've made your friendship work this long.
You might not have been aware that you shared these things together, but now it all makes sense as to why you click so well. Congrats to finding your true person. This is only just the beginning of many more priceless memories to come.