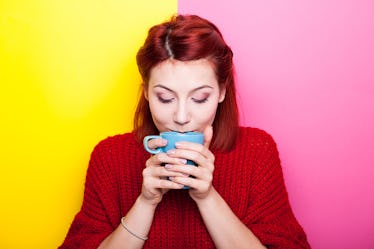 If You're The Friend Who Always Drinks Coffee, Your Squad Knows How Much Java Beans To You
Oh coffee, how I love thee so much. I honestly don't know what I would do without you every single day. I'll happily admit that I am obsessed with my morning java. I have at least one cup a day, and more if it's truly the best day ever. If you're the friend who always drinks coffee, you can likely relate, and your squad has grown to anticipate the latte-loving lifestyle that comes whenever you're around.
Java beans so much to me, and I'm a firm believer our relationship is in it for the long run. Simply put: We are just meant to bean. All puns aside, though, I love the flavor. Give me a hot, iced, drip, or espresso coffee any day of the week, please. You totally understand where I'm coming from, because you're probably sipping on a cold brew right now.
Your friends understand as well, because they know your love of coffee is all too real. That's why they've come to expect these eight things whenever you're around. You're the coffee friend, and you'll happily accept this title of the group. You might have even turned some of your friends into coffee lovers as well, and that only makes your friendship stronger.