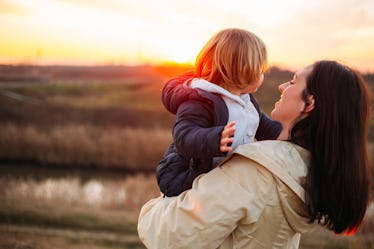 4 Things You'll Notice About Yourself If You're Not Ready To Have Kids Right Now
Maybe one of the biggest decisions you'll make in your life is whether or not you want to become a parent. Even if you're not ready to have kids right now, you've probably considered whether it might be something you want to do down the line. You don't have to make a decision yet, and that's totally fine, but of course it's always useful to consider the pros and cons of either choice. That way, when the time comes, you can feel confident in whatever kind of family life you choose to pursue — whether it's with 10 kids or none at all.
Can't make up your mind? Well, even if you want kids eventually, there are some surefire ways to tell that maybe you're not ready just yet. No matter how much of an independent adult you are, raising a child is a huge undertaking — I mean, seriously enormous. And it's not ever something that should be taken lightly. To get some clarity, I spoke to family therapist Liz Higgins about how to know when you're definitely not ready to have a kid. Before you dive right into dreams of parenthood, take a step back and see if the following signs are true in your life. If so, that's all the confirmation you need that now is not the right time to become a parent. Later? Maybe. But in the moment, it's time to chillax.