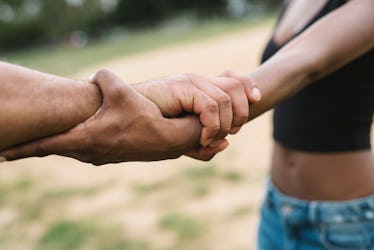 If You Love Your Partner But Need More Physically, You'll Relate To These 5 Stories
Relationships can be inherently complicated — that's kind of the name of the game — and it's definitely possible to be head over heals in love, but need more physically. Maybe your sex life with your partner used to be hot, hot, hot, but now the flames have fizzled out. Maybe you're in a new relationship with someone and they check all of your boxes, except for in the physical connection column. Whatever the case, it's not uncommon to be totally in love with someone but feel a little empty in the touch department.
An unsatisfactory physical relationship can be utterly confusing and wear down an otherwise seemingly perfect relationship. Some people are just more physically affectionate than their partners, whether it's in the form of PDA, cuddling during alone time, or how often you are actually getting it on. For many women, it can be tough to know what to do or how to talk through a less-than-satisfactory sex life. You don't want to hurt your boyfriend or girlfriend's feelings, but it's also something that might not be healthy to keep to yourself. Remember, needing more physically does not mean there is anything wrong with you — nor are you and your partner at fault.
I talked to five women who are (or were) completely infatuated with their significant others, but who feel like something is missing as far as sex and physical connection are concerned. Are you in love but need more physically? You'll relate to these five stories.