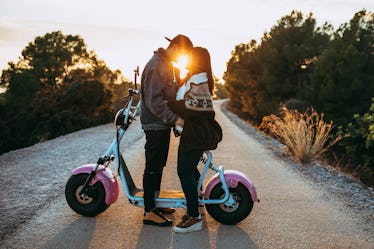 If You're Going To Start Dating Someone Who Is "Bad News," Remember These 9 Things
When I was 25, I started a "relationship" I suspected would end badly (I use quotes because I realized after that it was not, in fact, a relationship). He had serious commitment issues, and he panicked any time talk of the future came up. Did I not think it was a red flag that he was 34 and had never been in a serious relationship? No, I told myself, he's "misunderstood." Note to self for future — if you ever describe someone as "misunderstood," you are probably dating someone who is bad news. It was a real learning experience, and while I don't regret the experience, I wish I had known a few things ahead of time.
Dating can be risky — you're entrusting someone with your emotions, and there's always a chance it could go badly. There are a number of warning signs that someone could be risky to date (otherwise known as "bad news"), such as your friends warning you against it or a track record of short relationships. However, only you know if you truly want to start seeing someone, and you get to choose who to date. People have started beautiful relationships with someone who might have been described as bad news, but it's always good to be careful.
Read on to find nine things to keep in mind before you start dating someone who is bad news.