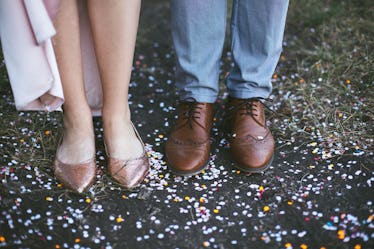 5 Easy Tips For Surviving A Wedding Full Of Strangers When You're A Plus-One
So you think you can't dance at a wedding where you only know your date? Wrong! You totally can. Going to a wedding as a plus-one can be intimidating, but I'm going to give you tips on how to thrive at a wedding where you only know your date.
After all it is wedding season, I literally know five different couples that got married this past weekend. And guess what? It is very likely that a few of the guests at each wedding went with dates, didn't know a single other soul, and ended up having a great time!
As a person with social anxiety, I love going to an event that scares me and ending up having a really great time. It works as a way to show my brain that there really isn't much to be scared of when it comes to celebrating something with a lot of people — like a wedding. Besides, I love a chance to impress a date with a good outfit and sick dance moves.
If you're still skeptical, try out the following tips on how to have a great time and impress your partner or date amongst their friends and family.