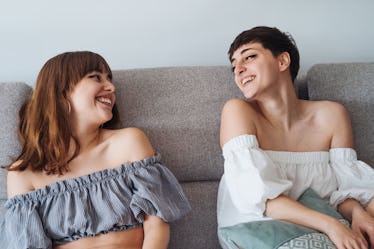 6 Tips To Help A Date Who Doesn't Drink Feel More Comfortable
In the dating world, it often feels like drinking alcohol is just par for the course in meeting someone. So many first dates happen over drinks at bars, and hookup culture depends in large part on the "liquid courage" people consume before sending that "you up?" text at 1 a.m. But not everyone chooses to date this way. If you're dating someone who doesn't drink, and you want to support their lifestyle choices, how can you navigate the dating scene in a way that's thoughtful and affirming to them?
Thankfully, dating as a non-drinker doesn't have to be boring at all. And just because your partner chooses not to drink doesn't mean you can't enjoy alcohol when they're around. "The fact that I don't drink has nothing to do with the fact that you do," says MJ Gottlieb, creator and CEO of Loosid, a dating app and social platform for the sober community. I asked Gottlieb for his suggestions on making your partner feel supported when they choose not to drink alcohol, whether they have experience with alcoholism or are abstaining for financial or health reasons.
I also spoke with Ruby Warrington, author of Sober Curious: The Blissful Sleep, Greater Focus, Limitless Presence, and Deep Connection Awaiting Us All on the Other Side of Alcohol. Like Gottlieb, she emphasized that a life without alcohol doesn't have to be monotonous. In fact, your relationship will be at its best when your support your partner and their life choices. Read on for some helpful tips on how to make that happen.