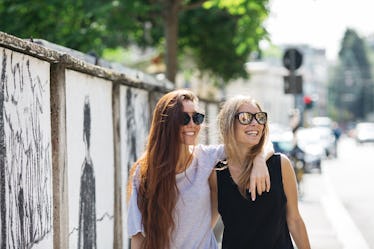 5 Most Satisfying Parts Of Dating Another Woman, According To Queer Women
As a heterosexual woman who lives in New York and dates dudes, I'll admit that I have a lot of preconceived notions when it comes to straight men. I love to gripe about the patriarchy, I assume that all men are obsessed with sex, and I have convinced myself that I will be cheated on one day. I'm guilty of all of the generalizations. (I'm also in therapy, don't worry.) I've never been with a woman, but I've certainly wondered if dating another woman — you know, someone of my own gender — would be different. Easier? Harder?
Immediately, I sense myself wandering into a territory full of new and ignorant generalizations: not all women think the same way, feel the same way about relationships, or are even inclined to be monogamous. Not all queer women are the same, just as not all straight men are the same, just as not any two of any "group" of people are the same. Sexuality and gender are fluid, and two women dating does not equal a necessarily "easier" relationship.
I also don't mean to insinuate that I'm about to "date a woman just to try and see if it's easier" — that would be ignorant. I'm not queer. So I took to Reddit to see what other women who have dated and/or date women had to say. Here's what they found satisfying about dating a woman: