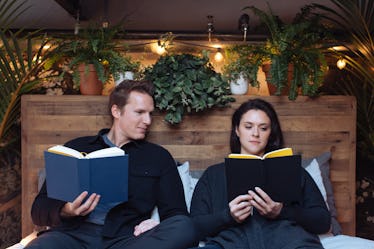 If Your Relationship Is On Its Last Leg, You'll Notice These 9 Signs
When I was in college, I dated a grad student. Our first few months were hot and heavy (well, he was a physics Ph.D. student, so our first few months were... months). But he'd cook for me, drive me places, text me all the time. After the first few months, he was noticeably pulling away by doing none of those things. In fact, I'd go days without hearing from him. I say it was "noticeable" because I noticed it in retrospect, not at the time. It can be hard to know if a relationship is on its last leg, so I collected some signs that might help you figure out where your relationship stands.
These are just warning signs that could indicate a relationship is on its last legs. Every relationship is different, and only you know what's normal for yours. For instance, I've been in relationships with people who make an active choice to use their phones less (how? Why? On what planet?), but it did help me understand when they texted less. I didn't have to interpret that as a sign that the relationship was winding down, although in other cases, it could be. If you're interested in keeping your relationship alive and you worry that you identify with too many of these signs, don't worry! These are just warnings, and you can reverse course by communication with your partner to work through issues.
Read on to find nine signs that your relationship might be on its last legs.