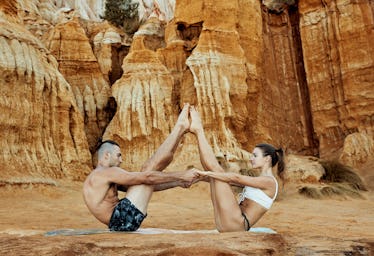 If Your Relationship Has Survived These 9 Challenges, You'll Make It Through
Relationships can make life easier in many ways (finally, someone to split the rent with! Someone to buy Halo Top so that it technically "wasn't you"). But they also may come with challenges, and if you've been in a relationship, you've probably experienced some of these. Maybe you've been with your partner for a while, and it's had its ups and downs. You might not always be 100 percent positive that your relationship is built to last, but if your relationship has survived challenges before, it can survive them again.
Relationships are an adventure. Like any hike I've ever been on, you don't really know if you're at the top until you're there (to be fair, I'm notoriously bad at planning hikes). Once, I prematurely ended a relationship because he was going to move further away (a mountain with a high peak, just to extend this metaphor), and I anticipated ahead of time that it wouldn't work out. In retrospect, I might have been right, but I also might have been trying to predict the future, which is impossible. The only thing you know for sure is the past and the present. Fortunately, history can be an indicator for what's to come (although it's not always), so if you and your partner have overcome difficulties in the past, you can again in the future. That's not to say that just because you haven't gone through difficult times, you won't be able to — every relationship is different. Still, persevering through tough times should give you some confidence you'll be able to again in the future.
If you've survived the following nine relationship challenges, you'll be able to get past anything.