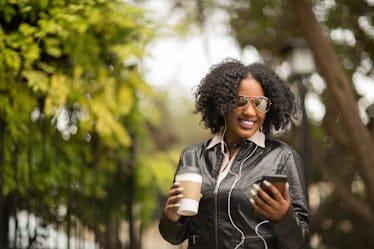 4 Texting Signals That Your Match Is Trying To Flex
Shutterstock
Maybe you're texting someone new and you're super into them. However, perhaps you're not so sure about their intentions. At the start of a new romantic encounter, it can be tough to tell what the other person is trying to do. For example, if they seem like they're showing off, it's possible that your match is trying to flex. According to marketing company Strategy Lab, flexing can look like someone trying to impress you or boast, and it can sometimes mean they're not being completely genuine. Flexing isn't necessarily a bad thing — why wouldn't the person you're seeing try to impress you? Not everyone is bothered by flexing, and it can be part of a healthy relationship. However, it can also suggest that your crush isn't being their most authentic self. So, I spoke to an expert to get the clues for you that your crush may be trying to flex.
Texting can be an easy method for flexing. For one thing, a lot of communication happens via text, so it makes sense that someone would try to flex then. Furthermore, if you're not face-to-face with someone, they might have an easier time bringing up their accomplishments. The way someone texts can provide clues as to whether or not they're flexing, and this way, you'll have a better idea of their intentions.
Read on to find four texting signals that the new cutie you're seeing is trying to flex.