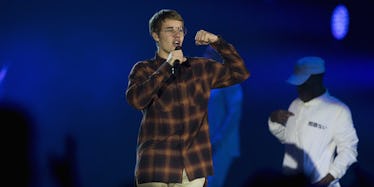 Single Justin Bieber Isn't Looking For A GF, But Will Still Flex His Muscles
REX/Shutterstock
JUSTIN, HONESTLY? SAME. SAME FOR ME, TOO, JUSTIN. I AM DATING MYSELF, JUSTIN. I AM ALSO V INTO KNEE SOCKS, JUS.
Wow, ever feel like you and Justin Bieber are literally the same person? You probably don't, because that is my thing. Please go find your own thing. You are embarrassing yourself.
Anyway, Justin and I are just kind of working on **us** right now. Dating can be so toxic and distracting.
The world is always badgering us with questions like, "Justin! Are you getting back together with Selena Gomez?" and "Taylor! Who the f*ck are you? This is a private party. You need to leave."
It's just too much to manage alongside our very different, but equally successful careers.
Justin appeared on the "Ellen" show Monday, December 5, to declare his full commitment to single life.
Decked-out in knee socks and a flesh-colored beard, he told the host,
I'm not dating anybody. Single. And I'm not really looking either.
Ellen noted Bieber seemed "healthier than I've ever seen," allowing the pop star to flex momentarily, while also taking time to ask whether he'd ever considered joining dating apps like Tinder (he hasn't).
This is where my equal, Justin, and I differ. I am on Tinder all the damn time. I've never been on a Tinder date, but if technology will be the death of mankind, the least it can offer us beforehand is a catalogue of dudes to swipe through when we're bored.
JB does feel the occasional sting of loneliness, despite being satisfied with his decision to stay untethered.
He shared,
That's probably the hardest thing [about touring], just being alone all the time. Because I'm always alone … I have my dog, Esther.
Speaking of touring, Ellen treated each guest in the audience to a ticket to Justin's North American stadium tour in 2017. When the studio audience heard they'd be seeing Justin (and maybe Esther) perform live, they erupted in screams and applause.
JUSTIN HATES SCREAMS AND APPLAUSE AND SO DO I.*
Get it together, people. When Justin does decide to start dating again you won't stand a chance.
*JK. Please clap — I require so, so, so much validation to survive.
Citations: Justin Bieber Talks Being Single and Dating Apps as He Announces U.S Stadium Tour on 'The Ellen DeGeneres Show' (US Weekly)