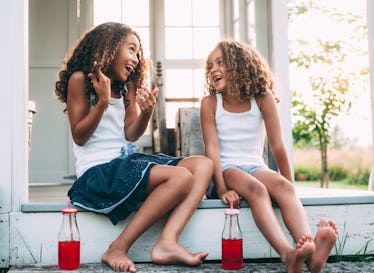 6 Things You Can Relate To If Your Childhood Neighbors Are Still Your BFFs
When you're a kid, it seems like that chapter of your life will last forever. You think you'll be playing kickball, making chalk masterpieces in the driveway, and having bake sales with your neighborhood besties for the rest of your life. Wouldn't that be so sweet? But alas, that time in our lives went by way too quickly — especially if you were lucky enough to have other kids in the neighborhood around your age. When you grow up in a neighborhood with a pretty rad group of kids, you're bound to become best friends with them. Time goes on, though, and friendships have the potential to fall apart. But, you and your childhood neighbors might still be as tight as ever. Because of that special bond, there are bound to be some things that are relatable AF to your crew.
Your childhood neighbors are your partners in crime since day one. I mean, who else would be better suited to be your lifelong BFFs? You know pretty much everything about each other. It's more than friendship at this point; you're basically family. You were there when they fell of their bikes and cried when they looked down at their scraped knees. You escaped giant bumble bees at the park together, and sprinted home giggling when rainy downpours put your capture the flag games on hold. These six things are just part of your friendship.