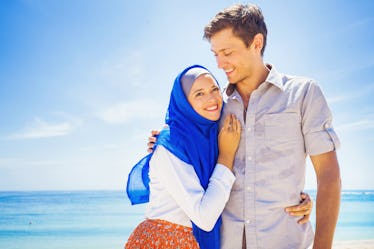 How To Talk About Religion If You & Your Partner Disagree, Because It Can Be Tricky
In some ways, the old adage of "opposites attract" can be very true — especially when having those differences helps create a balance between you and your partner, and brings out new sides of you. However, when those differences start getting at the core of you who are and your beliefs, being too different has the potential to create friction in the relationship. Case in point: If you and your partner don't agree on religion, that can create a serious divide between you, especially if you don't feel like it's something you can talk about without it turning into an argument.
"Religion is a fundamental part of who you are. It's not something small like what your favorite food is or favorite color. This is something that can truly make or break a relationship. It's important for couples to respect the parts of each other they don't agree on, or a relationship will never work," Jeannie Assimos, eHarmony's chief of advice, warns Elite Daily. So, if you and your partner have differing views on religion, you can't just sweep it under the rug and hope it resolves itself. It's essential to learn how to talk about it in a way that is respectful and open if you want to have a real future together.
To help cross that communication divide, I reached out to relationship experts for their takes. Here's how they suggest tackling this tricky topic.