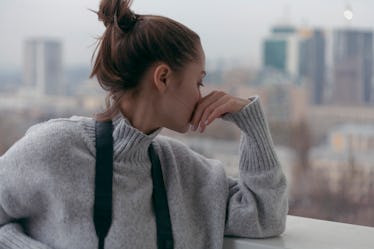 9 Mantras To Keep In Mind If You Were Dumped Out Of The Blue, Because You WILL Recover
I like to think I don't frequently "get dumped" — I instead run my relationships so far into the ground that both of us are grateful to just make it out alive. Saying "it's mutual" would be an understatement in the case of many of my breakups — we needed to split simply for survival's sake. But that doesn't mean I've never been dumped out of the blue. In fact, I've been dumped with seemingly no warning signs at all, and it's often worse because I didn't feel like the relationship came to a natural conclusion. If you've ever experienced getting dumped out of nowhere, you can probably relate.
It's not your fault if your relationship comes to an abrupt end (or any end). Still, it can sometimes leave you wondering what happened. Did you miss any signs? Was there something you could have done? It's the most human thing in the world to ask these questions after an out-of-nowhere breakup, but you don't have to beat yourself up over it. You deserve a relationship that comes with only fun surprises (like that your partner has a king-sized bed). You're not alone for being sad about a breakup, but the good news is there are ways to pick yourself back up.
Read on to find nine mantras to keep in mind after being dumped out of the blue.