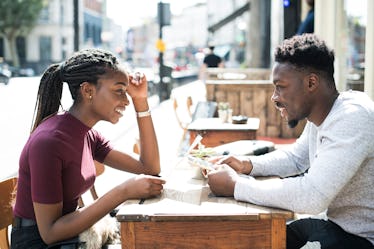 9 Tips For Feeling A Connection On A First Date
Shutterstock
The first date can feel absolutely magical. Sometimes you meet someone you really click with and the time just flies by. However, other times the dates can feel like they're moving more slowly, and you wish you felt more for the other person. Meeting someone new can be tough, but if you want to feel a connection on the first date, there are some tricks to make that happen. After all, chemistry can come easily, but you'll need to commit yourself to being open to the person you're on a date with.
I went on a first date a few months ago and initially felt no spark. However, he was kind and funny, and I knew he was someone I'd like to see again. I decided to try putting aside my reservations about our initial interaction and really stay present on the date. After all, I've gone on tons of really fun first dates where I felt a strong connection, only to later decide the guy was not a great person, so I figured maybe I shouldn't make decisions based on first impressions. And I was right — with this date, I found that by the end of three hours, I was super connected to him, and we continued seeing each other.
If you're interested in feeling a connection on a first date, try these nine tips.