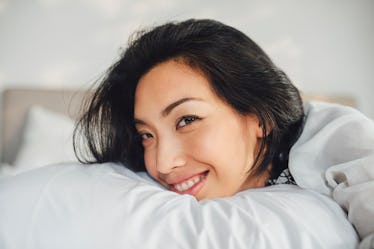 3 Zodiac Signs Who Tend To Be A Little Shy In The Bedroom, Because Comfort Is Key
If your version of a sexy movie is more 50 Shades of Missionary & Spooning or you'd rather get nail polish remover in your hangnail than try talking dirty to a boo — chances are, you like to keep your sex life slow and sweet. When it comes to unpacking sex, it can be fun to see how your zodiac sign plays into your desires. Whether vanilla sex is your bread and butter or you tend to get a little shy in the bedroom — your astrological sign may have something to do with it.
Of course, from chains and whips to staying in one position the entire time with all the lights off — as long as your sex is consensual and making you feel good, there's nothing wrong with doing whatever you're most into. If you prefer tender sex with lots of eye contact, followed by some soothing nonsexual bodily contact, you don't need to let sexy movies, your friend's hot yoga teacher mom, or anyone else make you feel any type of way for liking what you like.
If you like your sex slow and tender, you may be one of these three astrological signs.