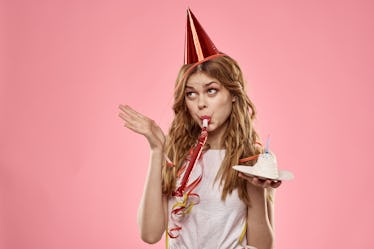 7 Things You Can Only Relate To If You Share Your Birthday With A Holiday
I've always been a firm believer that on your birthday, you deserve to truly live it up and make the rules. You are the boss, girlfriend. This is a day to celebrate your fabulous self, after all. However, if you share your birthday with a holiday, you may find yourself competing for center stage year after year, and the struggle can be all too real.
I love making a big deal out of my birthday, but I'm also one of those people who has to share the spotlight a bit, because my birthday is the day before Valentine's Day — aka, Galentine's Day. While it may not be exactly on Feb. 14, I still feel the affects.
I know I'm not alone in this struggle, as so many people have to share their big day with holidays. You might even laugh at these seven things, because you know them all too well.
But even though your birthday falls on a holiday, it's a day to throw that confetti in the air and celebrate — and you won't let anyone or anything try to take that away from you. It may be an adjustment, but you've grown to love your special holiday-birthday.