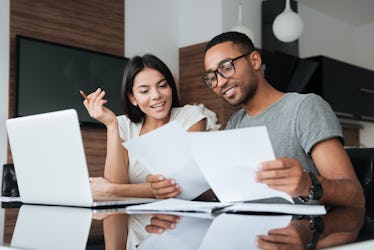 9 Tips For Setting Boundaries If You Share A Small Space With Your SO
Shutterstock
"It's so easy to find a large, affordable apartment," said no one ever. It's tough to find a space that works for you, and you may feel like your home isn't as big as you want it to be. This can be especially true if you share with someone else, such as a romantic partner. When you share a small space with a partner, you may have the combination of roommate issues and relationship issues to contend with (plus, the most terrifying of all — the thought that someone else might be eating your peanut butter). This can be tricky, so I have compiled some tips to make it easier for you.
I learned how to share when I was in kindergarten, but no one warned me about "Sharing Level Two: My Boyfriend Is Using My Toothpaste." Sharing an apartment with a significant other is a whole new ballgame, and you're not alone if you find it tricky (you're also not alone in your home, which can be part of the problem). Even if you have a wonderful relationship with your partner and you love being around them, you may run into difficulties sharing a small space, and that doesn't mean your relationship is in any sort of trouble. It just means you could benefit from setting boundaries in your home, which I can help with.
Read on to find nine tips for setting boundaries in a small space.