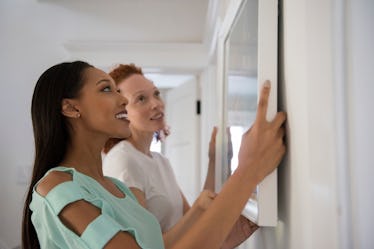 Moving In With A Stranger Is Scary, But These 10 Tips Will Keep You Safe
If you're taking that first scary step to venture out and live on your own after graduating from college, you have to confront the somewhat terrifying possibility of living with strangers. Sure, the best scenario is that you find a friend or a well-liked acquaintance to split the rent with, but that simply isn't always possible. So, before you move all your boxes into a new place with someone you just met a few minutes ago, there are some tips for moving in with strangers that can make the process smoother, more enjoyable, and yes, a whole lot safer.
Now, let me tell you, I've done my fair share of living with strangers. Sometimes these people become my best friends (fortunately, that's happened more often than not), and other times, it's been a bit of a nightmare.
As for the nightmare scenarios, I've since learned that there are plenty of things that can be done beforehand to make sure you don't get into a toxic situation, as well as ways to ensure communication is clear from the very start.
There's certainly a bit of a learning curve here, but the good news is that having roommates is a wonderfully unique experience, even if you're shacking up with a total rando. Here are a few tips to have in your back pocket if you're thinking about moving in with someone you don't know.