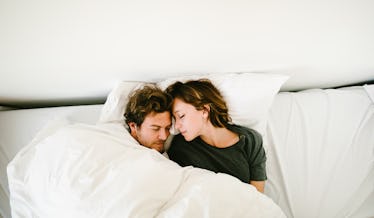 3 Zodiac Signs Who Love Really Good Vanilla Sex, According To An Astrologer
Let me get one thing straight: There is nothing wrong, boring, or "vanilla" about you if you love some really good vanilla sex. Whether you like to know when you're going to get it on so you can plan your shower, you know the positions that work best for your body and tend to stick with them, or just enjoy sexy times that are snuggly and closer to PG-13 rated than anything XXX, if you and your partner(s) are consenting adults, any sex you want to be having is good sex.
Of course, if you find yourself wondering why you like to keep it, well, vanilla, there may be something in your star chart guiding the way. As always, astrology isn't an end-all determining factor in one's sex and sexuality, but it's sure fun to talk about, especially when it comes to how signs like to get it on.
I spoke with astrologer Lisa Stardust about the three zodiac signs that are more inclined to keep in vanilla between the sheets, and what she says may surprise you. I know what you're thinking, and will have you know that no earth signs are mentioned in this article — let me tell you, I too was #shook.