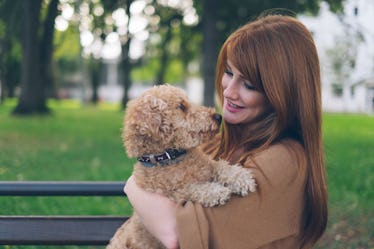 8 Undeniable Truths About Liking Your Pet Way More Than People
The moment you laid eyes on your pet, it was a done deal. You instantly became the best of friends, and you didn't mind spending countless hours hanging with them, instead of other people. You still have human friends per say, but your pet is truly your pawfect match — and unlike some peeps, they hardly ever disappoint. No one's judging you if you like your pet more than people, because sometimes, four legs really are better than two.
For starters, pets are loyal AF, and if there were a medal given for the best Netflix and cuddle companions, they'd be awarded gold each time. Loving your pet just comes so naturally, and you never have to question where you stand with them. (Although, it's usually right next to them begging for more wet kisses for the millionth time.)
Your pet has a way of tugging at your heartstrings, and you're all for how much it makes you want to spend every bit of your free time with them. I mean, how could you not grow attached to this adorable furry friend you take care of and cater to 24/7? People aren't so bad, but when you've been totally overcome by your how awesome your pet is, you know these eight things to be too true.