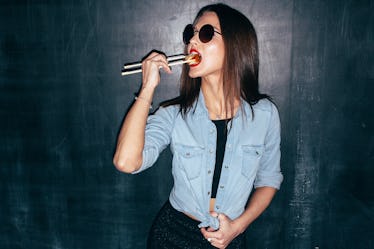 If You're High-Key Obsessed With Sushi, These 7 Things Will Make You Say "Same"
Sushi may not be for everyone, but I'd be happy eating it for breakfast, lunch, and dinner on a daily basis. I mean, what's not to love? Sushi is a bunch of tasty ingredients perfectly rolled up in rice and seaweed. To me, that sounds like foodie heaven. I know our favorite dish gets a bit of flack from those who just haven't embraced it yet. So, to all of those people out there: You're really missing out. Clearly, I'm not ashamed to admit I have a high-key obsession with sushi, and if you like sushi, too, you can relate.
Sometimes, deciding on what to order for dinner can be such a struggle. There are so many options out there that it's difficult to make up your mind — but that's not a problem to a sushi lover. If you leave it up to us to decide, we'll always suggest a sushi place. Some of your friends may not understand where the love comes from, but the heart wants what the heart wants. (And this heart wants spicy salmon rolls and shrimp tempura.)
If you're a fellow sushi lover, these seven things honestly make you who you are. Now, let's roll and get some sushi.