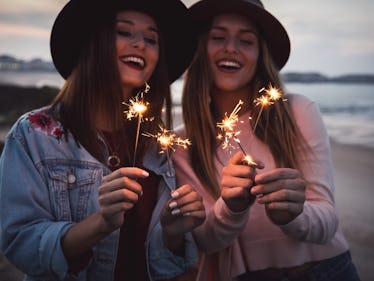 If You Have A Fall Birthday, You're Beyond #Blessed In These 8 Ways
Shutterstock
You love your birthday no matter when it falls on the calendar, but there's one season that truly takes the pumpkin spice cake (pun intended). If you have a fall birthday, you know you're extra #blessed in more ways than one. From the cake to the activities, this beautiful time of year makes your big day even better.
I'm not a fall baby, but I have always been jealous of my fall birthday friends. You get to party in my favorite season of all time. Cozy oversized sweaters, Pumpkin Spice Lattes, and Halloween already feel like one big celebration, so adding your birthday into the mix is just the icing on the cake.
It's as obvious as the vibrant red, orange, and yellow leaves on the tress outside that these eight things are the reasons why fall is the best time to celebrate a birthday. Now that summer is coming to a close, you're more ready than ever to celebrate your birthday season.
As someone who believes that birthday months are a thing — and you should feel free to celebrate as often as you'd like — let fall be your ultimate time to party. No matter what kind of celebration you have, be sure to live it up.