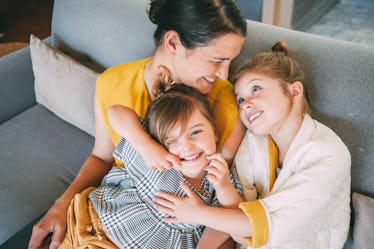 If You Grew Up In A House With Mostly Girls, These 8 Things Are So Accurate
Where are my ladies at? For those of you who lived and breathed the meaning of girl power on the reg growing up, you're beyond #blessed. If your village is mostly women, you know your upbringing was a tad different than most. To all of my people out there who grew up in a house with mostly girls, there are many great things you can attest to.
It's almost like living with your favorite girlfriends, except these humans share the same gene pool as you and won't hesitate to borrow your clothes without notice. You all look up to the same matriarch (your dope mom) and live by the same rules. Although, you can pinpoint a few times you guys thought it was a good idea to break said rules. But, you were in it together, right?
Together, women are unstoppable. They're like magical unicorns who raise even more majestic unicorns. If there were ever a reason to cue the sparkly glitter and heavenly harps, it's because a group of strong women have entered the room (but I digress). Your household was defined by the awesome women in it, and that's why these eight things will speak to your soul.